12 Weeks With Our Girl & Baby Must Haves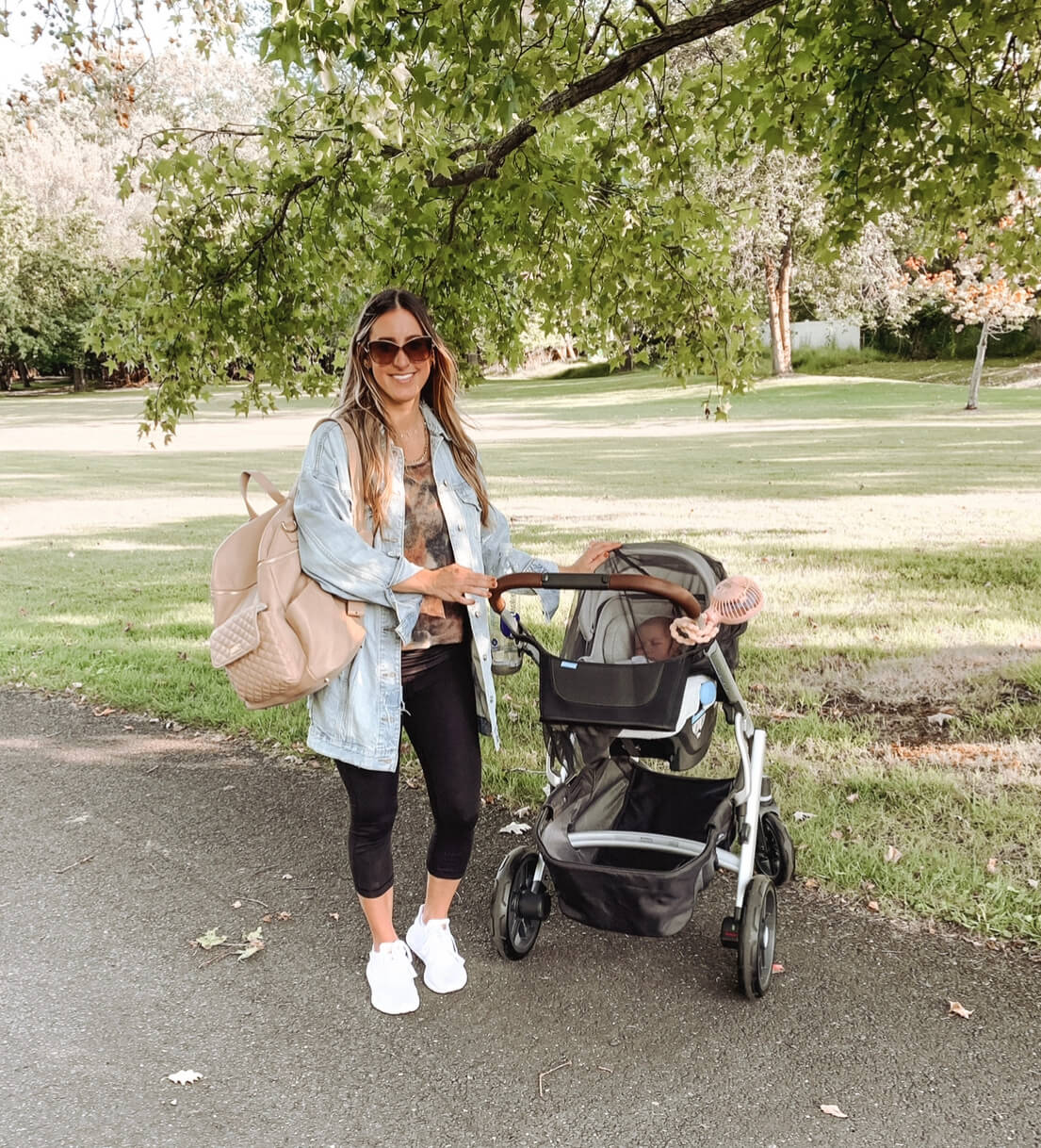 It's officially been 12 weeks of loving our Saylor girl ! ❤️ And I am out of what many call the Fourth Trimester. It's so true what they say about it — your hormones are SO out of wack, and baby needs to be cuddled / close to you at all times (like they were in the womb). Saylor loves to sleep on either me or Zack as opposed to her crib or bassinet ! But we've been working on getting her used to crib sleep. More on that below.
After nearly 3 months of being a new mom, I am kind of sort of getting the hang of it. BUT as baby is growing they're changing so it feels like we're constantly needing to adapt to her new needs! For instance, this week we noticed she's actually turning herself around in the crib. Not necessarily rolling over yet, but she'll wake up on the other end of the crib in the morning from kicking her feet! So now we're discussing transitioning her out of the swaddle, which has been a staple for her.. it's always something new!
I'd definitely say the best change we've seen to date is when she started to smile at us. It melted our hearts and changed everything. Now we're constantly doing things to try to make her smile ! 🙂 It's really the best feeling in the world when she looks in your eyes and smiles.
With all that said, I've been getting so many questions on what baby items have worked for us and which have not. Which are essential and which are not so needed. This post is an extension of / update to this blog post I wrote 3 weeks in to being a new mom. First I'll give an update on the products I've already talked about and then add on to this post about the ones that are new!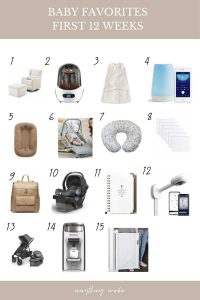 THESE ARE STILL ESSENTIALS, FROM THE FIRST 3 WEEKS POST TO NOW:

MORE ESSENTIALS I'M ADDING TO THE LIST:
13. UppaBaby Stroller Vista V2 – (we have the light grey Stella color) We've been using the stroller so frequently lately. We try to get out for a walk with her every day it is nice since it won't be warm out for much longer! I have to say that we absolutely love our stroller and think that this one was worth the investment.  Here are the reasons why:
Car Seat flexibility is #1. Being able to simply pull the car seat out of the car and pop it in the stroller makes maneuvering with her on the go SO much easier. I can't imagine having to unbuckle her, pick her up and move her to a stroller. Especially if she's fallen asleep! Like I said, she's very comfortable in the MESA car seat and falls asleep in it often.
Lots of conversion options. It comes with the bassinet and seat for when she's a little older (have not used seat yet). If we have a second baby, I don't need to buy a new stroller because this one will convert to hold two seats !

It also comes with a plastic cover for rain and a net for bugs. We've gotten a lot of use out of both.

Large shock-absorbing wheels. Going over bumpy roads or grass is easy.
Full basket below for storing. Fits my huge diaper bag so I don't have to carry it if I don't want to, lol.
The negative to this stroller is that it is bulky, meaning it doesn't fold down small and takes up trunk space. BUT I think with any stroller with big wheels and all the bells and whistles that is inevitable.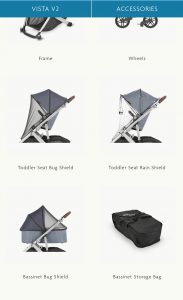 14. Baby Brezza Formula Pro Advanced – as Saylor is growing, we've been supplementing with formula, especially right before and during the night feedings. It is SO nice to not have to warm up breastmilk or measure out a formula bottle at 3am when baby is crying.. a warm bottle is ready in a few seconds with a press of a button. It makes night time so much easier when it can be so exhausting! (The machine makes you clean/replace the funnel every 4 bottles you make for cleanliness purposes, so we bought a second funnel that will always be washed/ready to pop back in)
15. Baby Gate – our baby gate is super easy to use and has a minimal look that blends in!
NOTABLE MENTIONS:
Mamaroo Swing – Saylor didn't like this swing when she was smaller, but now she seems to love it! It is not easy to move since it's heavy so we tend to keep this in our basement for when we hang out with her down there, either watching TV or working out in our mini gym.  I do love that it both rocks her and plays white noise sound.
Ergobaby Wrap – I used this more around the 2 month age when she was not napping well in the daytime and I needed to hold her while getting things done around the house. It was a lifesaver to have my hands free!  But lately now that she's napping in her crib longer, I don't use it as often around the house. I definitely see myself using this on the go eventually! I was a little underwhelmed by my Solly Baby Wrap (although beautiful) which was kind of a hassle to tie up every time. The Ergobaby lets me clip her in quickly and go.
Design Dua bassinet – I would not use this for overnight sleep since it has non-mesh sides, but we actually tend to use this bassinet as a portable one since it's so lightweight. We'll use it in our basement so she can nap while we're down there and we've also brought it to parents/friends houses so she can nap there. It fits into our car's trunk!
MAM Bottles & Pacifiers – We've found these to be Saylor's favorite, no complaints they are great products! And the bottles are easy to clean too.
I hope this little mom share is helpful! Let me know in comments if you want to see a follow up to this in a few months when we need to introduce new baby products..