Our Basement Renovation Plan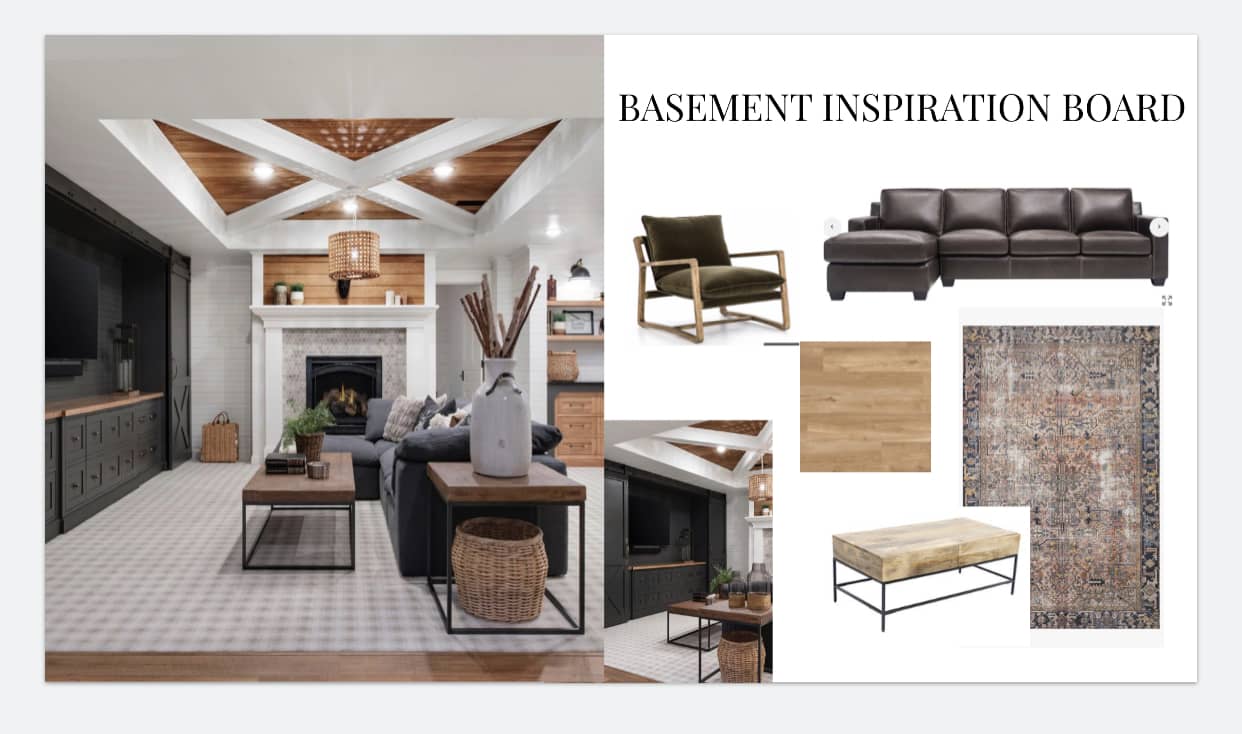 There are many pro's and con's to being a homeowner. Pro – you get to remodel/renovate your home any way your heart desires! Con – when something breaks or an accident happens that needs repair, you are solely responsible. We have experienced both of these pro's/ con's as homeowners, but no con has been greater than our finished basement flooding this year!
Shortly after Christmas, we noticed a leak in our basement. Later that day, a pipe behind a finished wall burst and water got everywhere. Under the floorboards, and soaking the bottom half of the walls. We panicked and immediately called Servpro, who handled the situation quickly by ripping up the water damaged walls / floor and drying everything out. Thankfully none of our belongings down there were ruined, but we knew we had major repairs to do to have our basement back in finished order.
After about a month of back and forth with insurance, we finally got the clear that they would cover the cost for the cleaning/ repairs (thank god for homeowners insurance!). I tried to look on the bright side of this small disaster that hey, I get to redo the floor and walls to my liking ! The finished materials were selected by the last homeowners, and weren't my favorite anyway. It was time to think about how I would redesign this space in my own colors and vibe.
Here are some photos of the current situation (after the damage):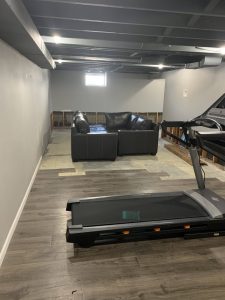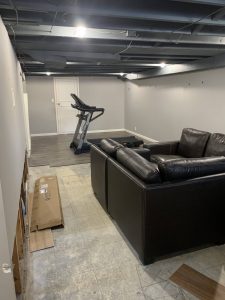 This space needed to be multi-functional : a hangout space for Zack (TV wall, large sectional couch, think man-cave 🙂 ), a gym where our workout equipment would be and also a play area for our baby on the way. A lot to consider all in one space!
Because the basement had a section off to the side and around a corner, we decided that little area would be the baby's play area. Originally we thought to have the gym there, but in reality the two bedrooms were above it and our gym equipment is really loud! So from a functionality standpoint it made more sense that this be the playroom – and we could keep it pretty neutral against the larger, more masculine areas of the basement for entertaining and working out.
Space for the baby's play area: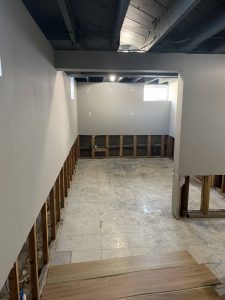 The basement was a space that I wanted to make sure that Zack loved. Let's be real, most of our home is designed and styled to my liking! He doesn't mind, but I wanted this space to feel wholeheartedly him. When I found and shared the below inspiration image from Pinterest that had more of a rustic/masculine vibe to it and he loved it, I knew it would be the perfect inspiration for the room.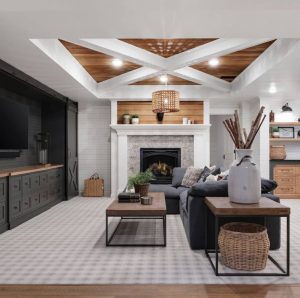 The initial design board for our masculine, rustic/cozy basement: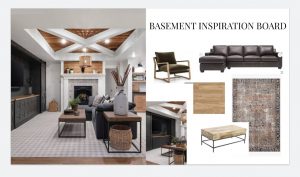 And the baby's area inspiration pic – neutral and sweet! (also found via Pinterest):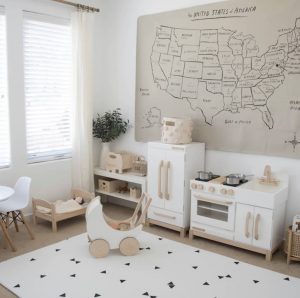 The actual plan:
White walls and ceiling
Two black accent walls – the TV wall and the wall behind the couch. They will have black trim boxes added to them for subtle impact !
Warm wood floors
Cozy rug, leather couch, wood accents for the entertainment area
Soft white/black rug, with sweet neutral vibes for the baby play area
The contractors begin TOMORROW on the wall repair and paint while we wait for flooring to arrive. I cannot wait to share the progress of this project with you all!