Our Hunny Turns One: A First Bee-Day Theme Party for our Girl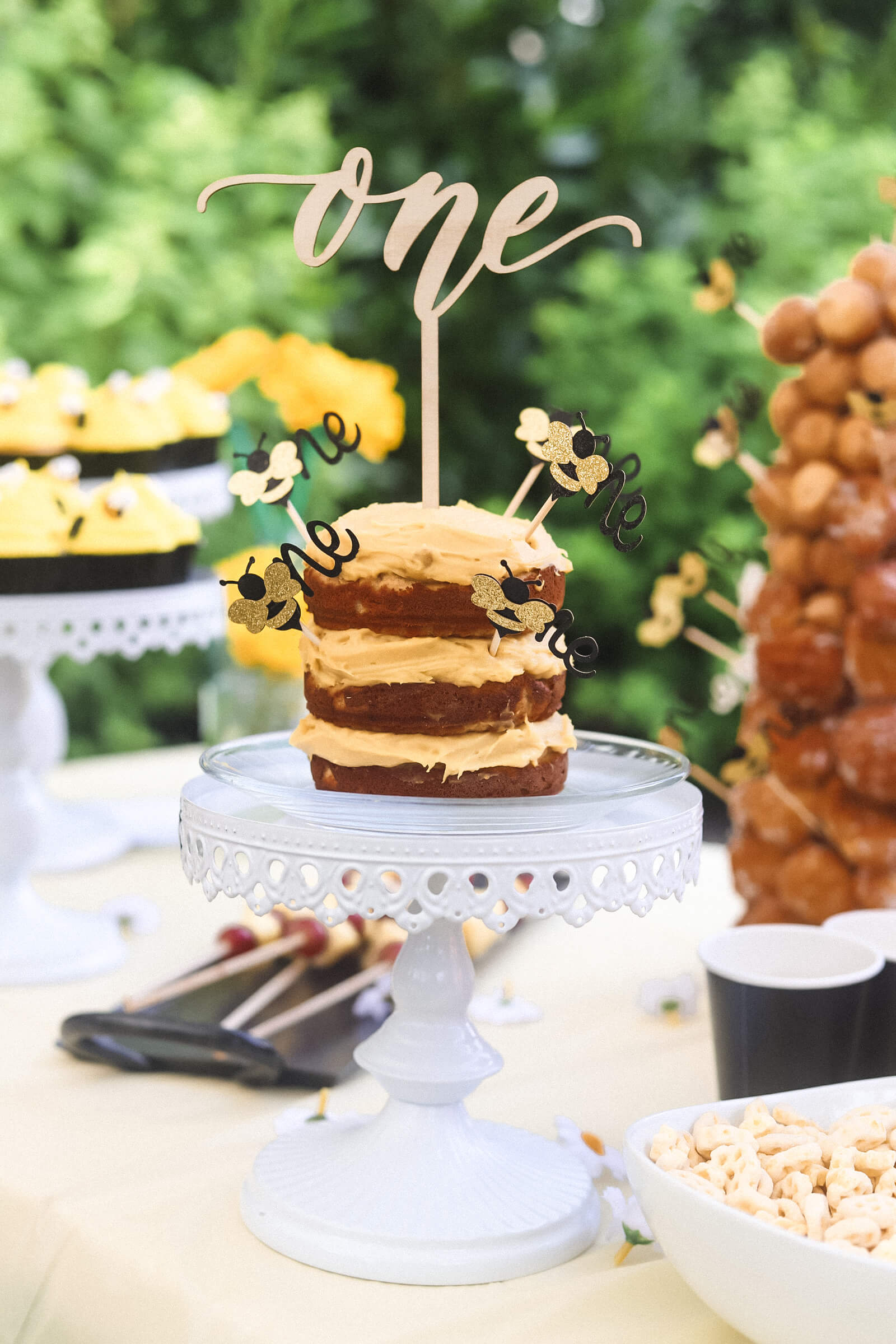 I cannot believe our girl Saylor is ONE tomorrow. This year flew by incredibly fast and it's so bittersweet. I took in every moment I could, but in a lot of ways I wish I could do it all over again!
I knew I wanted to do something special for her first birthday, but nothing over the top. We have ALOT going on between home projects, preparing for baby #2, finishing up my job before leave, etc., so to do something big was not in the cards. We also didn't want to spend a ton of money on the party, we would rather splurge for a family vacation or another experience like that.
So when looking through Pinterest for some simple party ideas, I came across this "First Bee-Day" theme that I absolutely adored. I pinned ALOT of different ones, but the one that caught my eye and I drew most of my inspiration from was this one from the Fashion and my Fellows blog!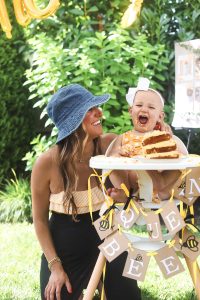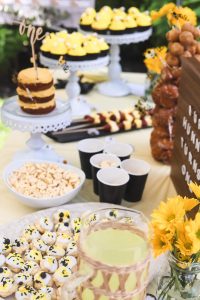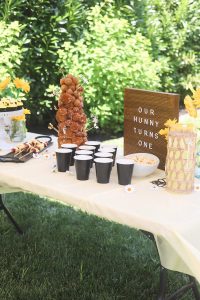 We kept the party small (just immediate family) and did it poolside at my mother-in-laws so we could swim! The whole thing came out so cute that I wanted to do a blog post on it and link all my decor for anyone who wants to replicate. Mostly everything is quick/easy to get from Amazon!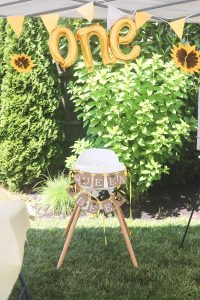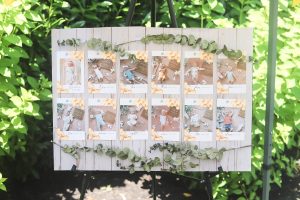 the decor
bee dessert plates, napkins and forks
watch me grow board – poster board from Michael's, taped on dried eucalyptus from Trader Joe's, printed at home on card stock using this Etsy layout
yellow flowers in mason jars from Wegmann's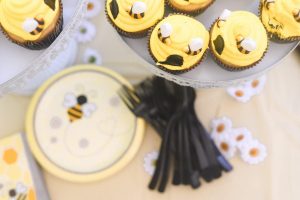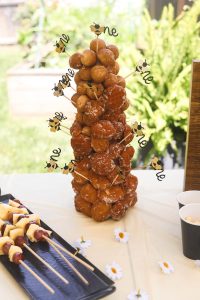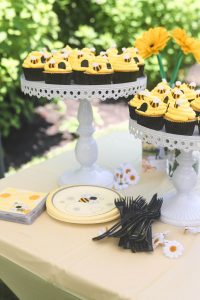 the food
Sugar-free Smash Cake – recipe here from eatingbirdfood.com.
w/ sweet potato vanilla icing, recipe below:
3/4 pounds white sweet potato, peeled and cut
1/4 cup maple syrup
1 tablespoon tahini
1 tablespoon pure vanilla extract
1/4 cup unseated plant milk
yellow food coloring
Steam sweet potato for 20 min or until very tender – let cool then transfer to food processor. Add maple syrup, tahini, and vanilla. Process until smooth and creamy. Add unsweetened plant milk one tablespoon at a time until mixture is spreadable. Add yellow food coloring as desired.
"one" cake topper + "one/bee" toothpicks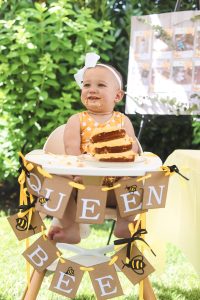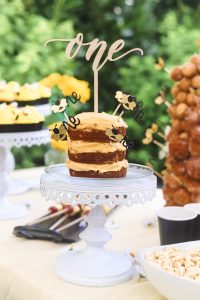 family recipe lemon drop cookies with yellow/black sprinkles
munchkin beehive – I used a styrofoam cone and toothpicks to stick Dunkin' Donuts munchkins to it. I bought two boxes of 50 glazed munchkins. Also stuck these "one/bee" toothpicks in random spots to make it look more like a hive.
fruit pop bee stingers – red grapes + pineapple on skewers
honeycomb cereal in little black cups were a hit with the kids!
bee cupcakes locally made from @eatcake.bemerry on Instagram
pitcher of lemonade for a summer drink, and yellow so on-theme!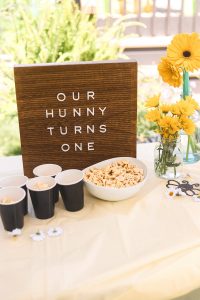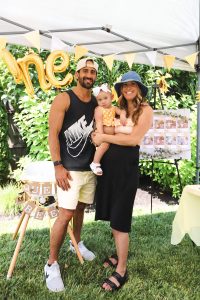 the outfit