Saylor Turns 6 Months & New Baby Favorites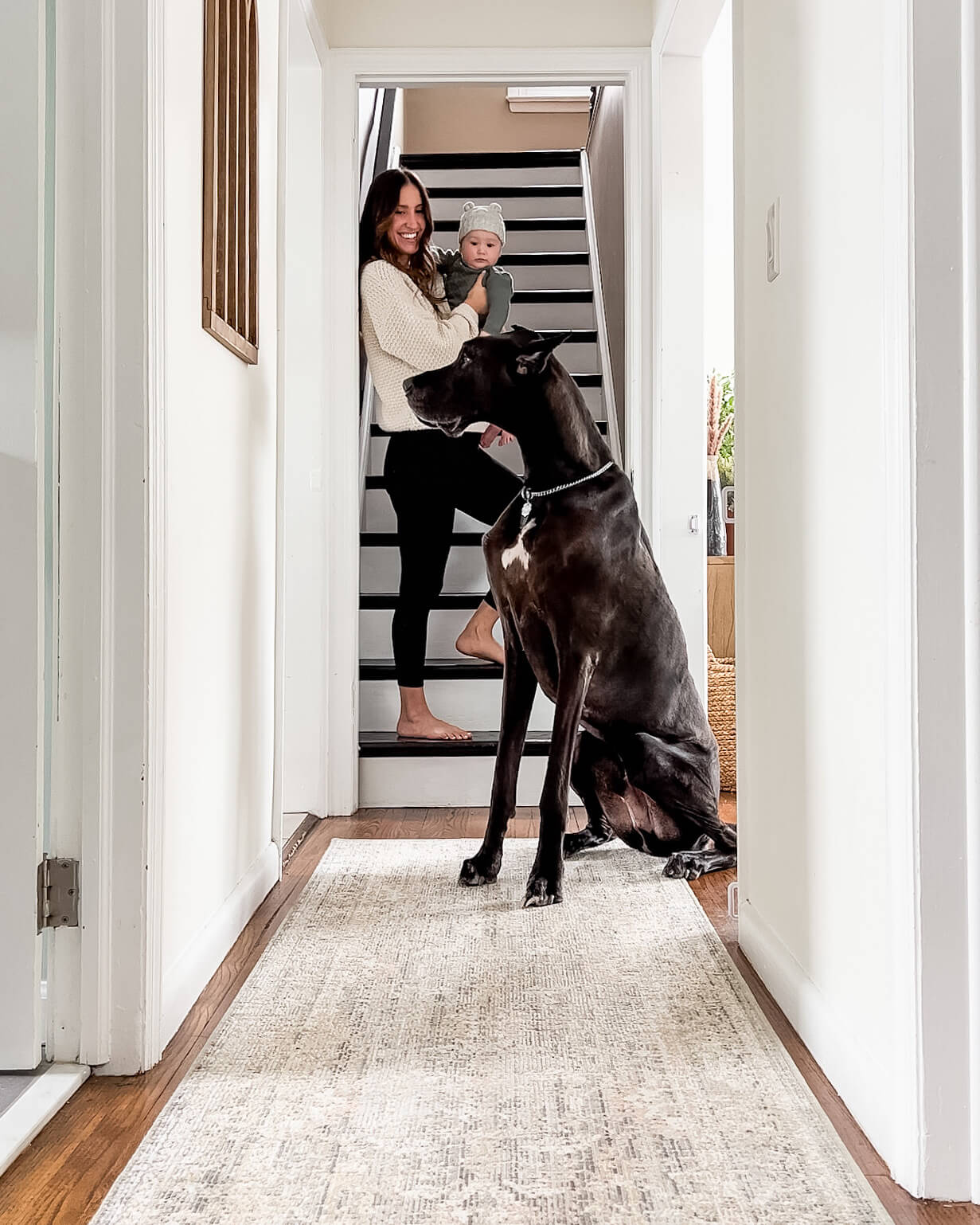 Saylor is 6 months today.. BOY did that go fast! Months 4 & 5 were really so special though. She is growing into a little human by the day. And I swear every week she's doing something new! From being SO interested in the environment and things around her, getting up on all fours (ALMOST crawling), semi-sitting up on her own (just a bit clumsy) and her giggly, silly faces when we play with her — we are still so in awe of this girl!
After 6 months of being a new mom, I am finally feeling comfortable now. Yes, there are new challenges that come with each baby stage but I finally feel like I have a groove with her now. 4-6 months has been SO fun! And much easier than 1-3. She is sleeping fully through the night now (yay!) so mom and dad are well rested too.
With all that said, I wanted to provide an updated baby favorites for the past few months ! These have been essential to us keeping up with our sweet Saylor. This post is an extension of / update to this blog post I wrote 3 weeks in and this post I wrote 3 months in to being a new mom. Many of the products talked about in the 3 month post are still key/ being used and I stand by them! This is an addition to that list.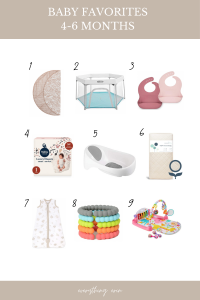 Here are some new additions to my baby favorites, 4-6 months:
ToddleKind Organic Cotton Luxe mat –  now that Saylor is on the move (not crawling yet but rolling all over the place!) you'll notice a couple of my must haves are mats or toys that help wrangle a rolling baby. We lay this organic cotton mat down in the living or dining room for a nice, clean space (free of Sonny hair) and Saylor plays/ rolls around on it! It is big enough to *mostly* keep her on it, super soft and cute/neutral!
Pack n' Play Lite Traveler – we use this both on the go and around the home! A portable play yard that's big enough for Saylor to have fun and roll around in, but keep her contained to a certain area of the room.
Silicone Catch-All Bibs – Saylor started trying foods around 4.5-5 months old after showing readiness signs. These catch-all bibs are key to keeping food (mostly) off of her clothes and catching things that fall. Way better than cloth bibs!
Millie Moon luxury diapers – yes, these are a more expensive diaper, BUT they are the most absorbent we've tried, and we've tried lots of different brands of diapers since being gifted so many at my baby shower. I also love that they're clean ingredients with no synthetic fragrances. We ALWAYS use them as an overnight diaper, as she never leaks through them. I had to make mention of these because they're our favorite!
Boon Soak Bathtub – this is what we use to sit Saylor in for her bath. I like that it always feels clean versus our bigger tub! And it helps her sit comfortably.
Naturepedic Organic Breathable Ultra 2-Stage Baby Crib Mattress – we stopped swaddling Saylor somewhere between 3-4 months when she started rolling. It was stressful because then she ALWAYS rolled to her belly in the night and we were freaked out about her not being able to breathe with her face down in the mattress! When we registered for her crib mattress before having her, we hadn't even thought about that being an issue (you don't know what you don't know!). If I could go back in time, I would definitely register for a breathable mattress, which basically means it allows airflow through the mattress so your baby can breathe through it if they roll over. It is peace of mind for us. I did a bunch of research and this was the best one I found, recommended by The Gentle Nursery. It's breathable, waterproof, zero toxins, 100% organic, Greenguard certified, etc. etc. The list goes on. It also has two sides – one firmer for babies and the other one softer for toddlers so she can grow into it.
Burts Bee's 100% Organic Cotton Sleep Sack –  we've tried a few different brands of sleep sacks after she outgrew the swaddle, but this one seems to be Saylor's favorite and she sleeps well in it. It's super soft and comfortable. It's also light in terms of heat coverage at a 0.5 TOG. We'll be buying more in the next size up as she grows!
Silicon Chew Rings – Saylor loves these chew rings, made of silicone and BPA / phalate free! These were recommended by The Gentle Nursery blog too. I always try to get her toys that are non-toxic where I can especially ones for her to chew (although she does have regular toys, too). Put them in the fridge to make them cool to help with baby's teething.
Fisher-Price Deluxe Kick & Play Piano Gym – I'd be remiss if I didn't put this toy on the list! It was recommended by so many moms for good reason, it keeps baby entertained! Saylor loves to do tummy time in front of the lights and music, or kick the piano herself on her back and look up at the hanging animals and mirror. And the songs are all really good lol! Zack and I wind up singing them all day long. Anything that buys me or Zack some time to get things done while she plays is a win in our book !
Honestly there are so many more products that have been so helpful. From toys, etc. so it was hard to narrow this list down. I also tried to include a bit of everything! If you have any questions at all, don't hesitate to leave a comment below and I will answer. xo