Thanksgiving Table Hanging DIY for Under $10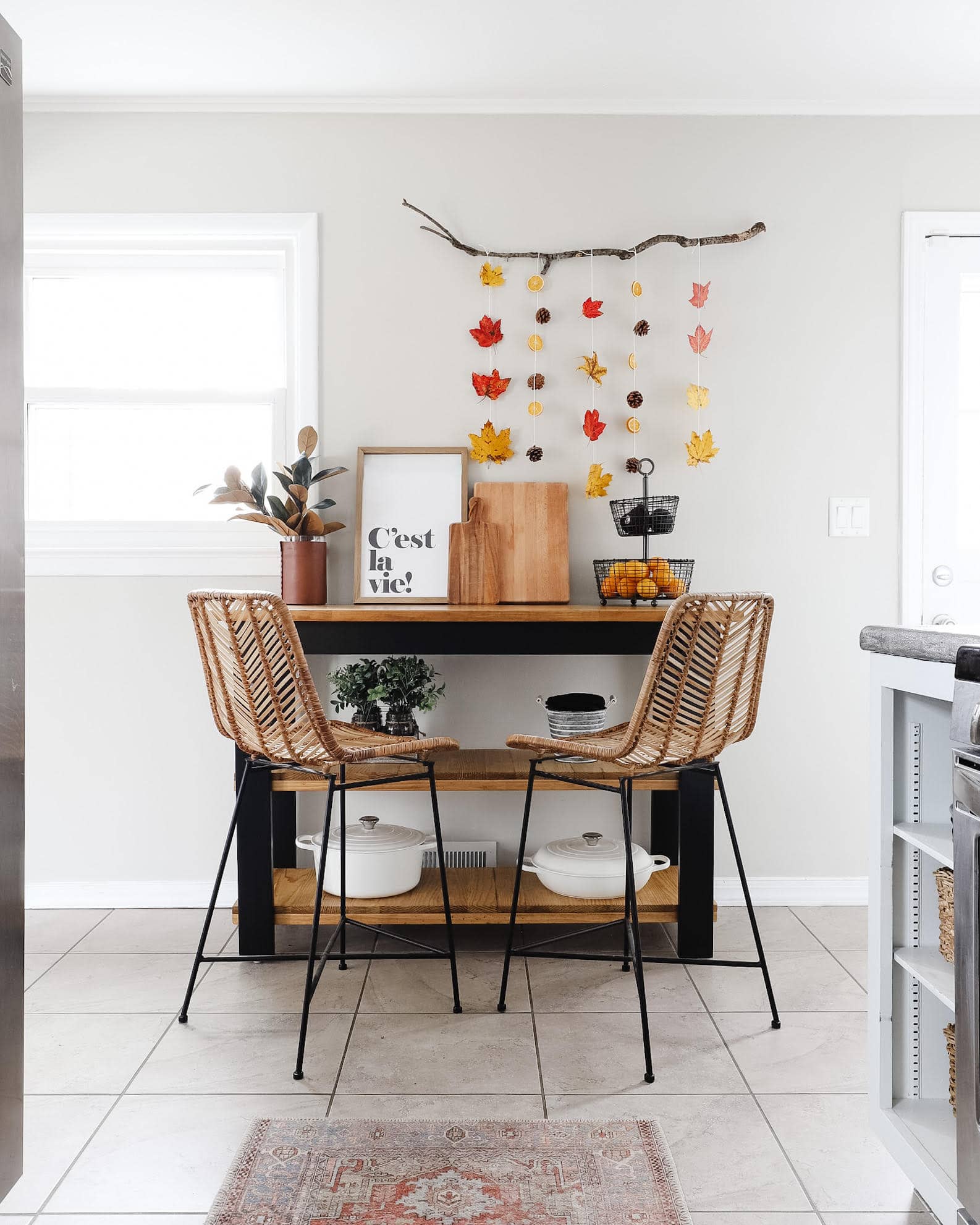 Thanksgiving is just a couple weeks away and although I've been sharing a lot of Christmas stuff, I do LOVE Thanksgiving. The food, and especially the time spent with my family. My brother and sister live in Connecticut and I don't see them as often as I'd like to – so gathering around the table with some good laughs with them is the best.
S H O P  T H E  P O S T:

I thought it would be fun to create an easy DIY that would make our day feel a bit more festive and came across this leaf hanging DIY from Chris Loves Julia. I did some more searching on Pinterest (which I always do before a DIY) and found some similar and stunning hangings that included dried oranges and pine cones too, so I decided to incorporate those into mine as well!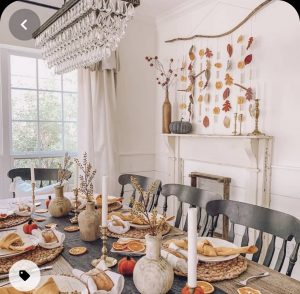 Via Pinterest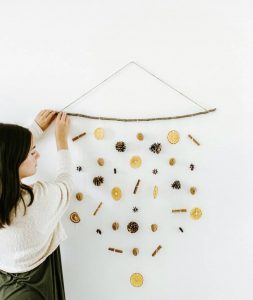 Via Pinterest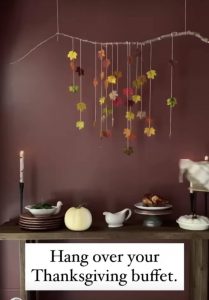 Via ChrisLovesJulia
SUPPLIES YOU NEED:
If you're foraging most of these supplies (leaves, pinecones, stick) – you really can do this with under $10!
Oranges (one bag at Trader Joe's was $4.50)
Yellow, red and orange leaves (I used real that I found at our park, but faux will last longer – here is a link).
Pinecones (I ordered these, but you can easily find them outside too!)
Long stick (I also found one at our park)
First I had to dry the oranges, and I followed these instructions I found via Pinterest.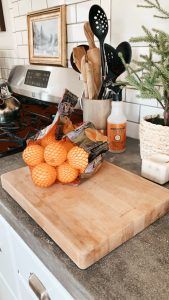 Slice the oranges 1/4 – 1/2″ inches thick
Lightly squeeze / pat out the excess juice from them using a paper towel
Pre heat your oven to 200 degrees Fahrenheit
Place the orange slices on a steel rack (I had a cookie cooling rack, but you can use your oven rack if you have none)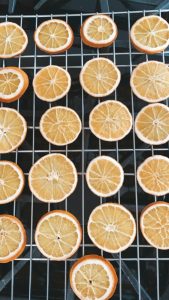 5. Bake for 4-5 hours, checking every 30 minutes and flipping if needed, until they are dried   and a slightly darker orange !
Next, I had to create the actual hanging which was super simple. I laid out all my supplies and cut 5 pieces of string to tie onto the stick in even separation.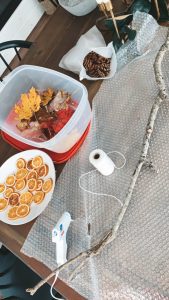 Then, I started placing the leaves, pinecones and oranges to visualize where I would eventually want to glue them. I thought I would be doing all 3 on each string (alternating), but after playing with it I realized I liked the look of keeping the leaves on one string, and the pine cones/ oranges on the next. I alternated until I got the look I desired. Then I used the hot glue gun to glue everything in place!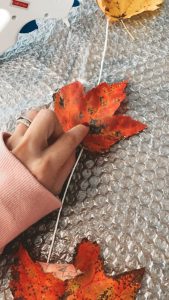 (Note: it was easiest when I turned everything over and glued leaves/oranges face down so the glue could try on top as opposed to sticking to the surface below)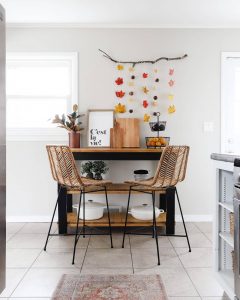 Then Zack helped me hang the hanging over our island table using Command Strips (I swear they are life savers!!) and voila ! A perfectly festive, Thanksgiving wall hanging – that can be hung above your dining table (if ceilings are high enough!) or above the side buffet table with all of the treats. 🙂
Sonny had to get in a pic too, obviously 🙂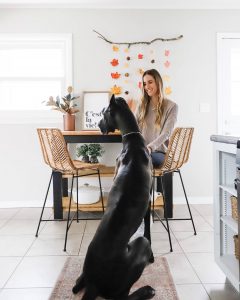 Tell me, have you been trying any Thanksgiving or Fall DIY's this year ?