The Nursery Flip: Baby Boy's Nursery Inspo & Mood Board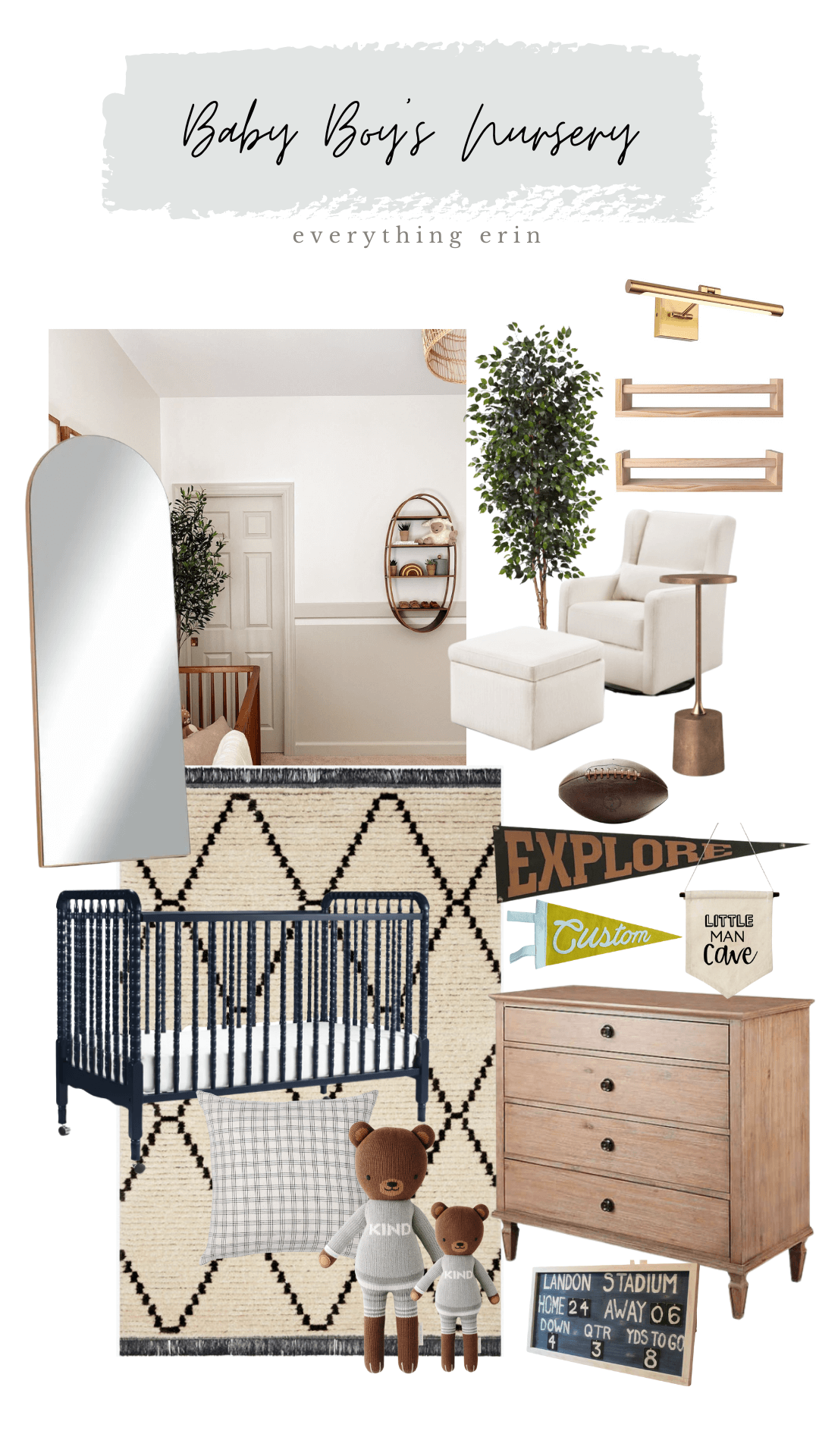 I am still in shock as I write this blog post. Zack and I finished Saylor's forest-themed baby girl nursery last June. And it has served us SO well in Saylor's first year of life. Now that we're expecting baby #2 (a boy!) we had to consider all of the ways in which we can make space for him in our home.
After LOTS of deliberation, we decided to turn Saylor's nursery into baby boys', and create Saylor a 'big girl' room upstairs after she turns 1. This choice had solely to do with the layout of our home and what would work best for our family. Our master bedroom is on the main floor, with the nursery just to the right. It served us well having the nursery so close since we were in and out of Saylor's room ALOT in the first 6 months. But since 6 months, she's been a great sleeper (6:30pm-5:30/6am) and we rarely need to tend to her in the middle of the night. Therefore, we think (sadly!) she's ready for our other bedroom upstairs on the second floor. Makes me emotional just thinking about it! But it is the right move for our family and this little boy that's DEFINITELY going to need us in the middle of the night.
So, that means a couple of moving projects on my plate! First, Saylor's big girl room upstairs and second baby boy's nursery. For Saylor's room, I would like to keep many of the things we used in her nursery, but maybe 'upgrade' some others. We did just purchase a lot of it last year so it's brand new. I'm interested to see how that room will come to life and will share the design plans for that one later!
In the meantime, I have been pinning and gathering all of the inspiration for baby boy's nursery. It will be interesting to see this flip! There will be some items that stay, and some that will definitely need to change (the paint!).
Follow me on Pinterest to see what I've been pinning so far.
After scouring Pinterest and Instagram for weeks, what I ultimately landed on as far as a theme (and you know me I like to keep the themes pretty subtle!), was a Vintage Sports Baby Boy nursery.
I absolutely fell in love with this little boys room by Pine and Prospect Home. The simplicity of it, the fun blues and browns and lightness it also brings. The vintage pieces make it feel collected and homey too.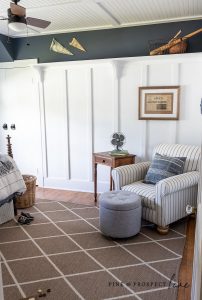 I also liked the idea of this theme because sports are HUGE for the Manfre family! All of the boys in their family growing up were little athletes, and loved everything about participating in their favorite sports (baseball and basketball to name a couple!) and watching each other's games as a family. It will be cute to nod to that family tradition with our little boy.
With that in mind, here is the initial mood board I put together. I want to stress that like all mood boards I do, there are many things that can evolve and change as things come together! But this is the vibe and ideas that are flowing through my mind right now.
I'll also link the products I am thinking below as well, you can see some pieces are carrying over from Saylor's nursery (ps, I already snagged the crib during a major sale 🙂 )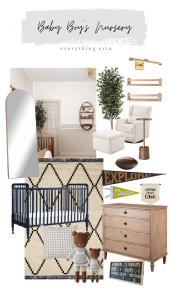 Crib / Glider (Saylor's existing) / Dresser / Arch Mirror / Dresser (Saylor's existing) / Plant / Explore pennants / Little Man Cave Flag / Cuddle & Kind Bears / Pillow / Book Shelves / Picture Light / End table (Saylor's existing) / Rug
One major change that is going on in here is a total repaint of the room! Obviously the pink trim has to go, and I'm also sad to take down the hanging eucalyptus wall. BUT I have other ideas for that accent wall. Possibly some trim like we did in our basement, but in a light greige color. Inspo pic here from Pretty in the Pines. Apparently she installed this trim without nails – and it's giving me all the 'DIY it on my own' ideas..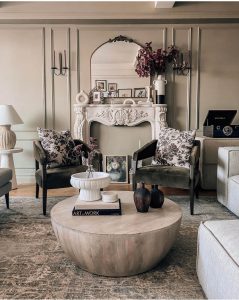 There's a ton of details that need to come together. This is my pre-planning stage, and the actual work will start in July after Saylor turns one! Excited to share this nursery flip with you all.
xo, Erin