Vintage Inspired Rug Favorites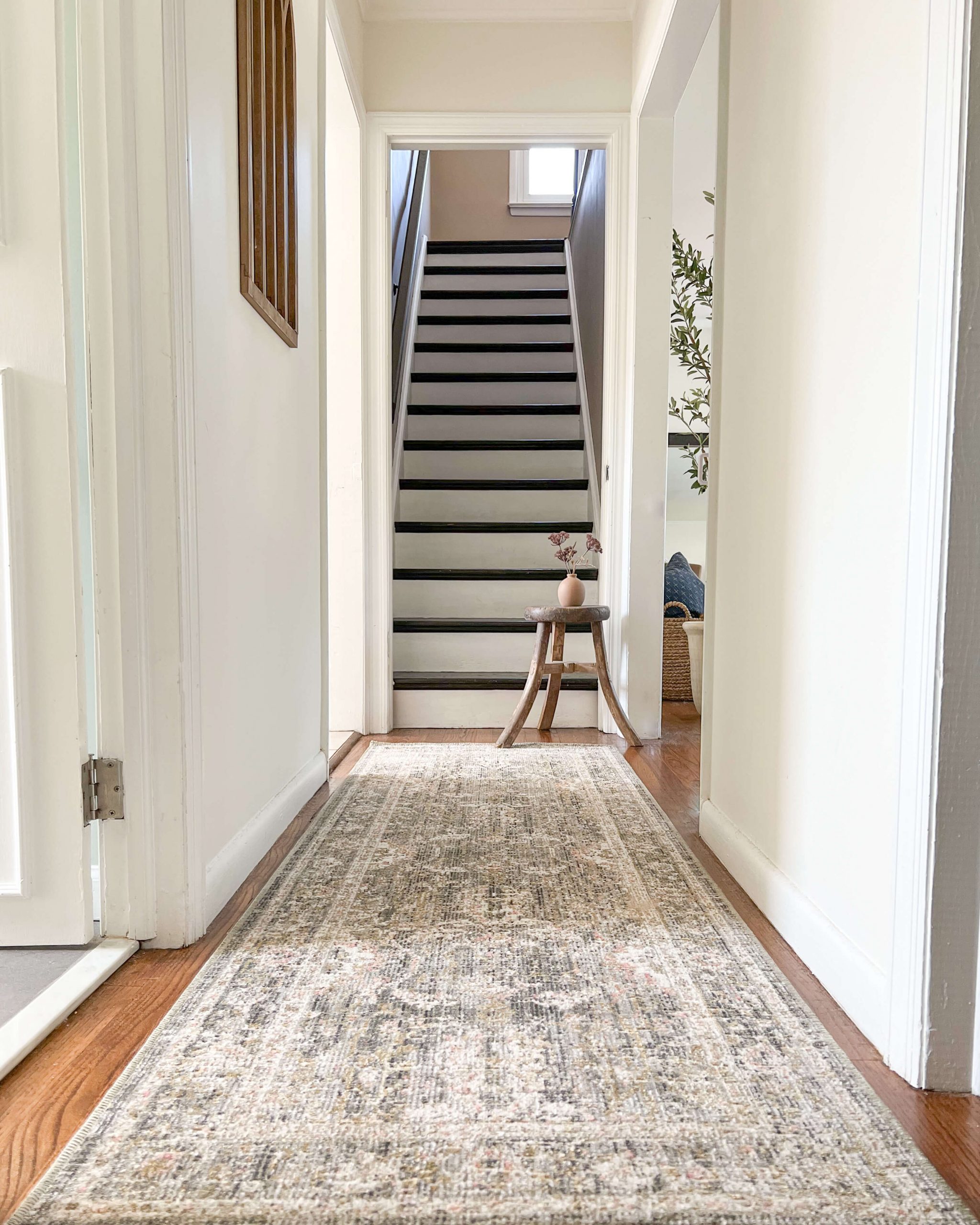 My favorite type of rug is a vintage inspired rug. They are a statement piece in a room and add so much character. Today I am rounding up my favorite vintage inspired rugs from the brand Loloi, including three of my own !
Rug 1: Chris Loves Julia x Loloi Rosemarie Collection in Sage/Blush
I have been looking for the perfect runner rug to replace the jute one in our hallway for some time. The jute was looking a little worn and well, it was time for a change !
I came across this one from the Chris Loves Julia x Loloi collaboration and instantly fell in love. I have the 2'7″ x 8′ runner version. The combination of colors is lovely, sage and blush combine to make almost a neutral! And the tones feel very earthy. It really adds to the warmth of our hallway. The rug is very soft to the touch too, whereas the other two Loloi rugs I own are low pile / less soft.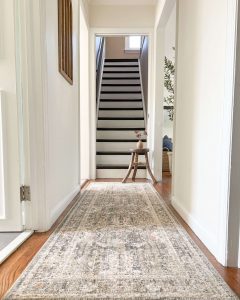 Rug 2: Loloi Loren Collection in Terracotta Sky
Another favorite vintage inspired rug of mine is in my kitchen — the Loren in Terracotta Sky. I have the 2'6″ x 7'6″. As mentioned before, this one is flat without any pile BUT that makes it perfect for a kitchen where spills can happen any day (and they definitely do in our kitchen!). We've spilled on it countless times and the pattern actually hides anything that won't come out really well.
The colors in this one are perfect and really warm up our all white kitchen. It would go great in any neutral heavy space that needs a little pop of color.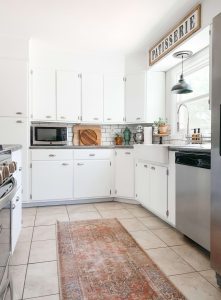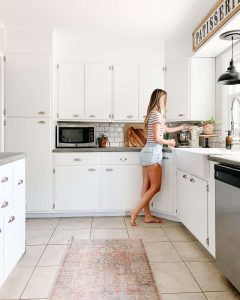 Rug 3: Loloi Layla Collection in Olive Charcoal
The third vintage inspired rug I own and quite possibly my favorite of them all is the Layla in Olive Charcoal. This one sits in our bedroom at size 7'6″ x 9'6″ and I get so many compliments on it. The colors are described as olive and charcoal, and those colors are definitely in there, but there are also hints of blues, beiges and maroons. It's a beautiful combination!
I have to say that the rug does seem to look different in different spaces — that it almost reflects the colors in the room. For instance, our walls in this bedroom are painted a very light blue and the light in here brings out the light blue hues in the rug the most. The great thing about that is that it will go with many different rooms and spaces.
This rug also has very low pile, but still cozy enough for a bedroom. It would also make a great kitchen runner or dining room rug for that reason.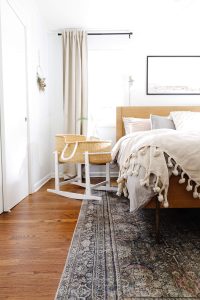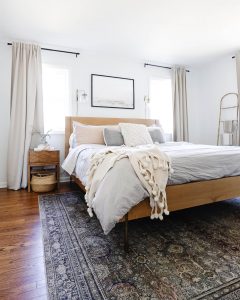 I've found that Loloi rugs are durable, great quality for the price and for sure a designer look for less.
Here is a roundup of some of my favorite Loloi rugs (including my three!):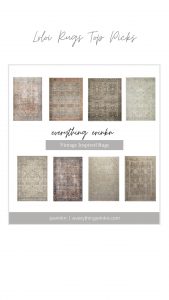 S H O P  T H E  P O S T :

Be sure to check out my LTK post HERE for the shoppable links to my favorites too.
They are all available on Amazon which makes it easy to shop !