Fall Front Porch Reveal + Fall Porch Decor Essentials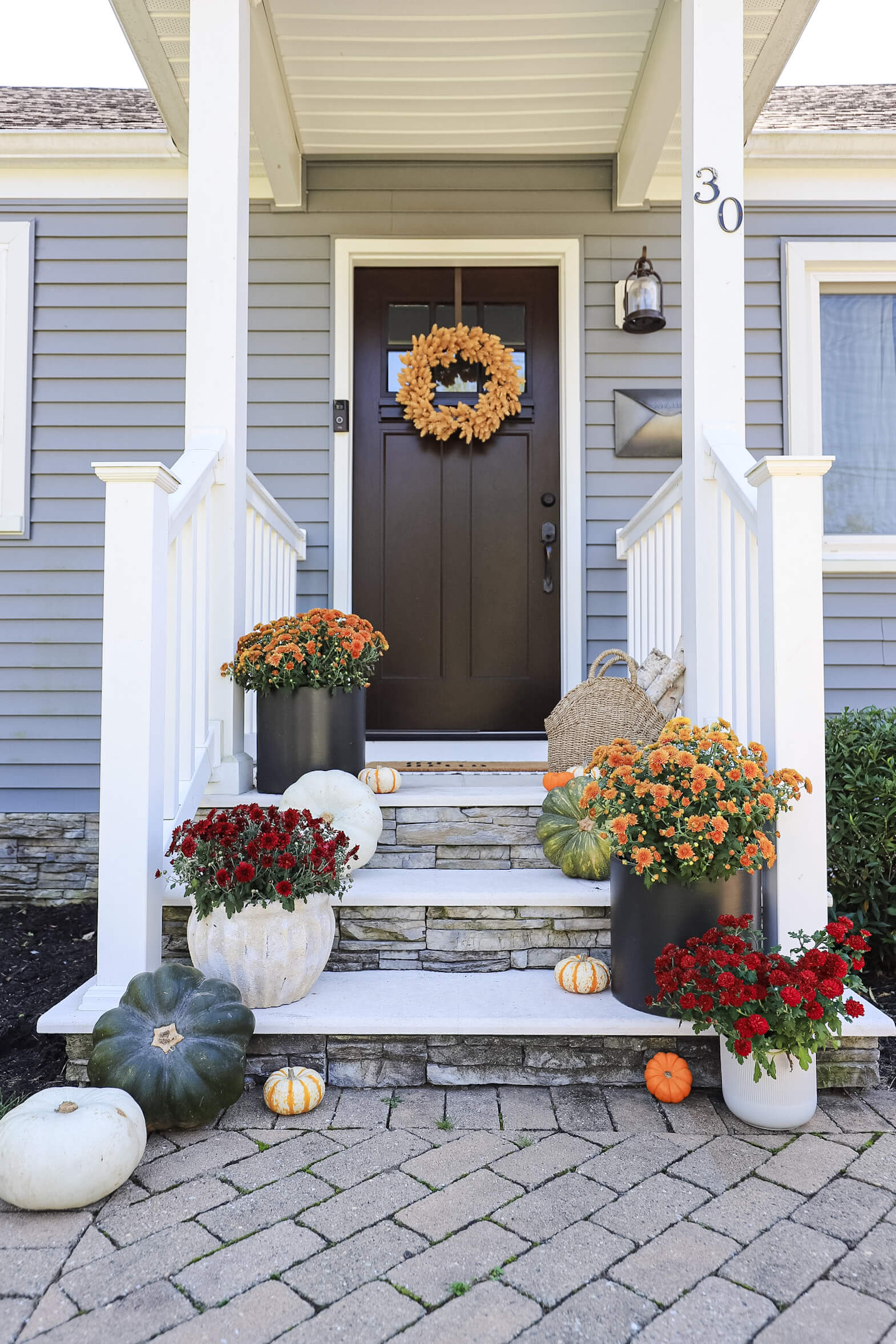 One of my favorite spaces to update seasonally is our front porch. We may have a small porch but I take advantage to decorate it to the 9's.. especially for Fall and Christmas!
Here is the blog post of what we did for our Fall porch last year. I wanted to change things up just a bit with the colors and accessories.
And below is our Fall front porch this year ! Scroll below for an outline of Fall porch decor essentials and links.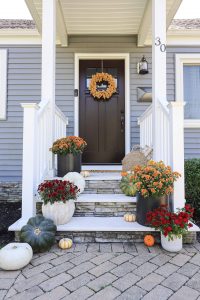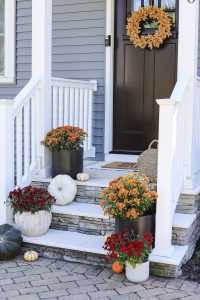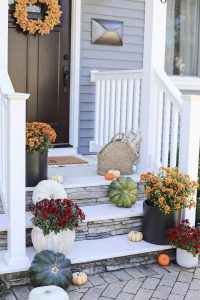 There are some things that are simply staples when decorating outdoor areas for Fall. Below is an outline of those things as well as shoppable links to be able to put together your own Fall front porch!
Mums — of course Mums are on this list! Mums are considered the flower of the season, and you'll see them everywhere at your local grocery store, nursery or garden center, Home Depot/ Lowe's, etc. They come in a variety of different colors but I like to stick to 2-3. This year I chose maroon and burnt orange. I decided to put them in a mix of modern and rustic planters.
Pumpkins — this one is a given 🙂  you will also find them everywhere! You can go faux or real, and I tend to go real (without carving them because that brings on the bugs!). I LOVE the fantasy pumpkins from Trader Joe's in the Green, white and light orange colors. That is what I used this year!
Fall foliage wreaths — Update your greenery wreaths from the summer and instead hang one featuring Fall foliage! Mine is faux wheat from Target in and I'm linking a few others to this post as options.
Cozy layered doormat — I have so much fun picking out one each year ! For the top mat, I like to pick one out with a cute or funny seasonal saying or drawing. For the under mat, I layer a slightly larger outdoor rug (usually 3×5) that has some kind of pattern to it. Last year I had black plaid (very popular!). This year I opted for a neutral stripe. Anything goes really it just adds coziness/ character to your front step!
Lanterns — this year I didn't opt to have lanterns in my small space, but it is so beautiful when you do. Linking some of my favorites to this post.
Basket with Logs and/or blanket — so this one is not required, and unless you have a real fireplace it's really just for show! But it's a cute and cozy detail that can set you apart. Obviously make sure that this will not get wet in the rain where you place it!
S H O P  F A L L  P O R C H  E S S E N T I A L S :

S H O P  L A N T E R N S:

Leave a comment below if there are any other Fall porch staples I'm not thinking of !