Rome's Nursery Reveal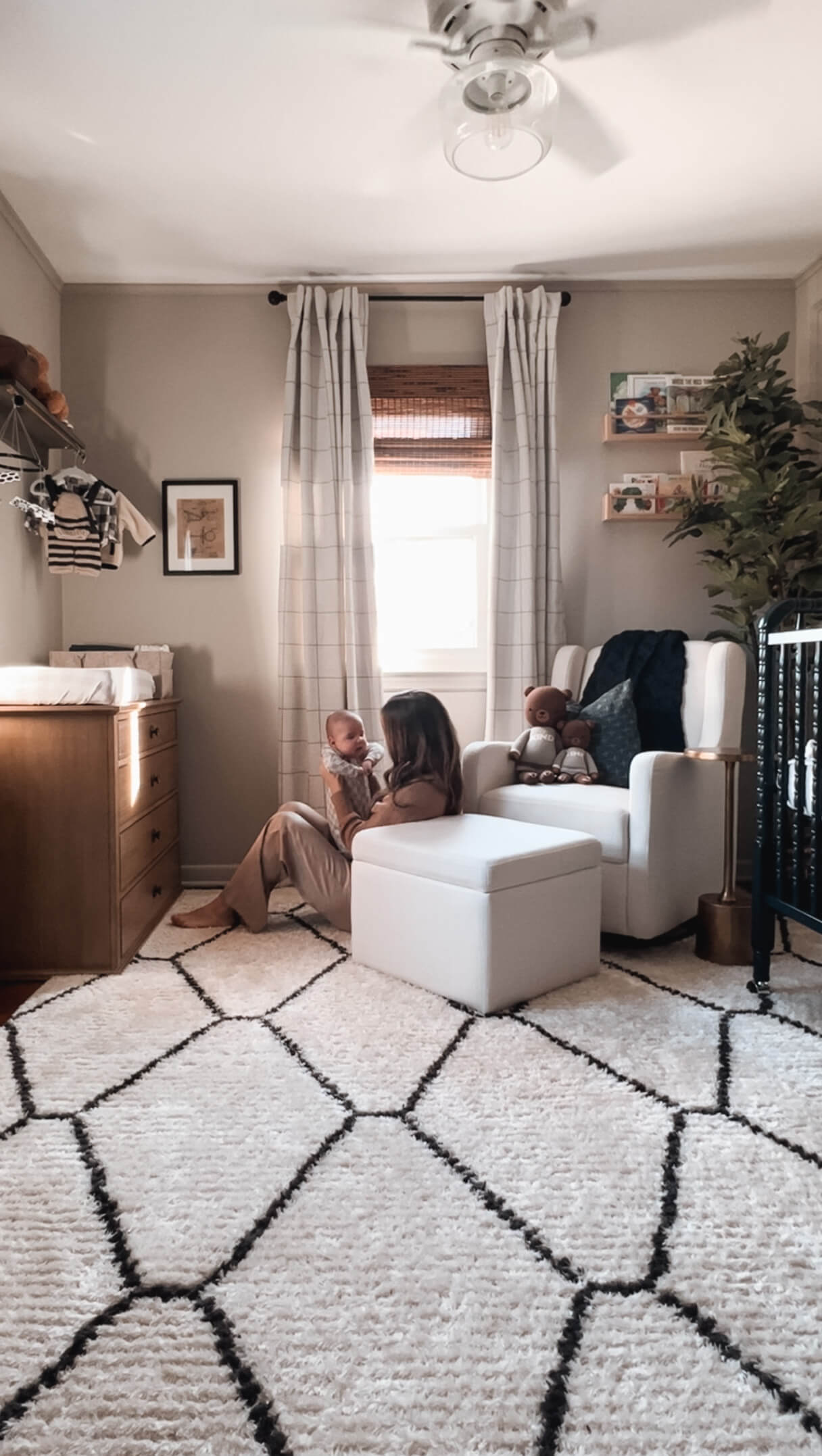 This has been by far my longest project to date. When we found out I was pregnant back in January, it was the sweetest surprise but also a lot to take in (we knew juggling 2 under 2 wouldn't be easy!) And when our little guy arrived 3 weeks early in August, things got even crazier – yup, life surprised us yet again, throwing out even the best laid plans for a nursery swap lol. This room and so many other things were of course put on hold. Looking back, 2022 was definitely our most challenging but rewarding year yet!
I still wanted to take the time to make this room special for our Rome, like I did for Saylor last year. And it's finally finished just in time for him to officially move in 🙂  (he had been sleeping in a bassinet bedside for the first 3.5 months of his life!).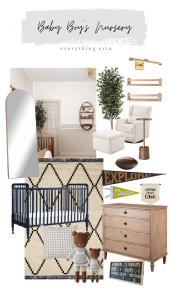 I had written this post with the design board for the nursery back in May before his arrival this Summer. I talked about our plans to turn Saylor's nursery into Rome's nursery, and move Saylor into her big girl room upstairs after she turned one.
In designing his room, I wanted to create a subtle 'theme' of vintage sports. I found so much inspiration for this on Pinterest that I fell in love with, and also because sports are HUGE for the Manfre family. All of the boys in their family growing up were little athletes. This room would be a cute to nod to their family tradition for our little boy.
Here is it come to life, and the full gallery of links is below…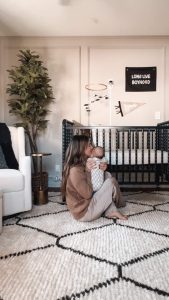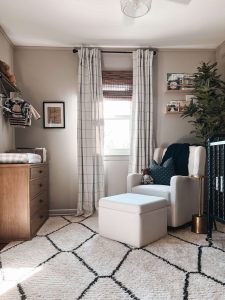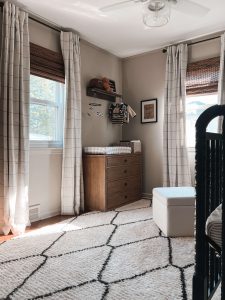 The paint color in here brings a warmth to the room : Revere Pewter by Sherwin Williams. We decided to paint the walls AND the trim (both the floors/ceiling and window trim) all Revere Pewter for a monochrome look. It gives it a more modern look in here and makes the space actually feel a little bigger too.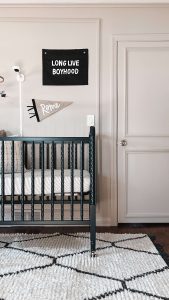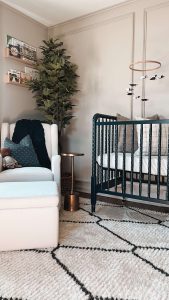 On the wall behind Rome's crib, I knew I wanted to do a special accent here. We decided on doing two XL shadow boxes in trim to give it a little charm. And repeated on the door as well. The pennants / flags hung above his crib give this side of the room that sporty feel ! Both are from Etsy and linked in the gallery below.
There are two mobiles in this room gifted from my MIL – they are beautiful black and white pinwheels and patterns. These are special for Rome and his vision development since he has trouble in that area. He LOVES to look up at these in his crib and when I'm changing him !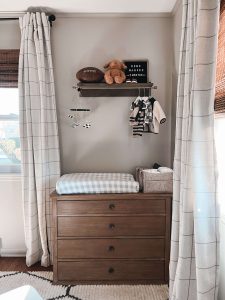 We kept some furniture in here that was from Saylor's nursery – the changing table (actually a dresser) and the glider.
I found this adorable little shelf / hanging unit on Etsy and knew I had to have it! I wanted something above the changing table that could function as both a shelf and to hang some clothes. It is actually very functional to hang outfits that I am planning to change him in up here! I asked for the "aged barrel" stain and a bronze hanging rod from the Etsy shop.
Do you remember this IKEA Hack closet? We turned this closet from basic to super functional and organized for us using the IKEA Pax last year for Saylor's nursery. So inexpensive to do for a custom look! You can find the blog post all about it HERE.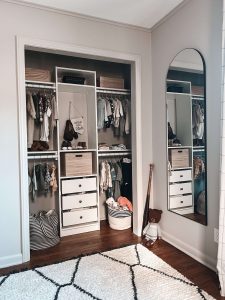 These windowpane curtains were THE finishing touch in here. I was on the hunt for so long! These are an amazon find and blackout too (although I do use the shades to make it even darker in here, it's not the thickest of blackout fabric on the curtains).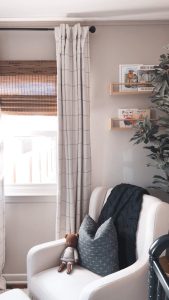 I cannot wait to read to Rome in this reading corner! This tall faux fig breathes some life into the corner. Mini book shelves are from Etsy. And this crochet blanket was a gift from my mom to Rome.
All of the sports memorabilia in here (football, punching bag, boxing glove, baseball glove, bat) are all VINTAGE and gifted to us.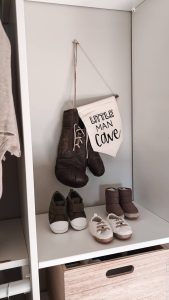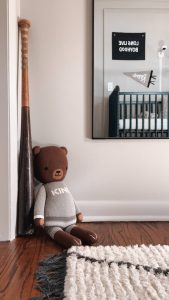 I am also in love with these little Cuddle and Kind bears! These are named "Oliver" and are handcrafted. I love this company because for every doll purchased they provide 10 meals to children around the world.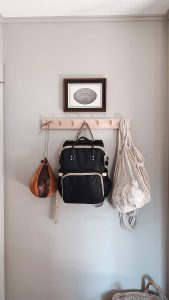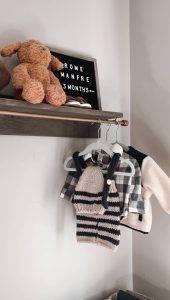 I am so excited to make memories in this room with now our 2 growing babies! xx
Gallery of links below – feel free to contact me for any questions or drop a comment below.