Fall Stovetop Potpourri Recipe & my new Non-Toxic Ceramic Cookware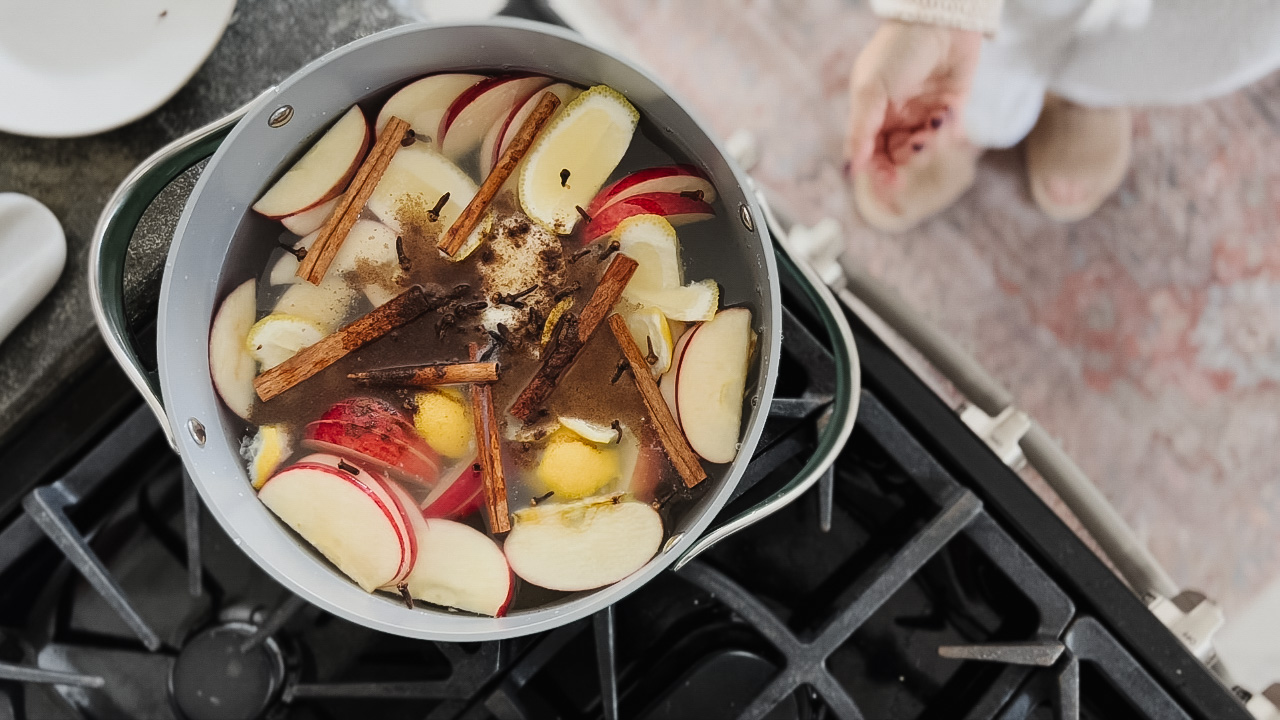 Fall is my second favorite season (behind Summer!) for a lot of different reasons. Between comfy sweaters/boots and the beautiful crisp weather, I am sold! But the scents of Fall are also by far the best (hello pumpkin, apples and cinnamon!). Sometimes lighting a Fall candle doesn't cut it though, or I may not have the time to bake something delicious (especially with the baby lately!). So I tried this quick stovetop potpourri recipe that filled our home with the coziest Fall scent. It is a great, natural way to make your home smell like Fall, sans the chemicals/artificial fragrances in a candle.
Disclosure: This post contains affiliate links which means at no additional cost to you, I earn a small commission if you click through and make a purchase.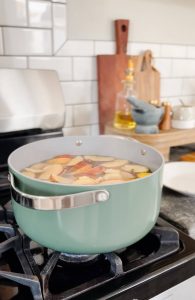 This recipe is super fast and simple too. The ingredients are thrown into a pot filled with water and simply simmer on the stovetop. While it simmers, the fragrant steam travels through your house to give your home a fresh, natural and delicious fall scent.
I made this today using my new non-toxic ceramic cookware from Caraway Home.
Speaking of opting for more natural products, their cookware caught my eye because they are made with a naturally smooth non-stick ceramic – 100% non-toxic with no synthetics. If you know me you know I have been finding ways to live a clean, non-toxic lifestyle wherever I can. They are a bit of an investment, but when it comes to my health that's something I am always willing to splurge on.
I also loved the modern, clean look of them. They could almost work as a decor piece! I chose this sage green color to go beautifully with my kitchen, but there are a lot of other color options to choose from too.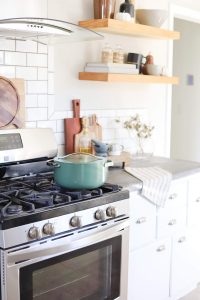 If you're shopping for non-toxic cookware as well, I have a 10% discount code valid until November 3, 2021. Click this link for the discount code to automatically be applied when you shop!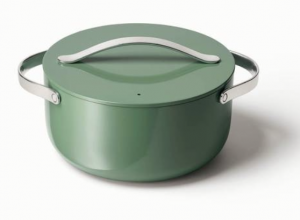 Click to shop the Caraway Cookware Dutch Oven I used.
10% discount automatically applied to any Caraway purchase if you shop before November 3rd!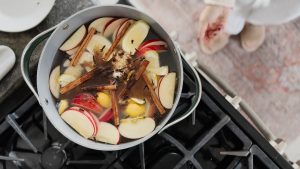 T H E  R E C I P E :
INGREDIENTS:
– 2 apples
– 2 lemons
– cinnamon sticks*
– star anise*
– cloves*
– allspice berries*
*whole, ground or extract options work for all the spices!
DIRECTIONS:
– Slice apples keeping seeds and skin (they add to the aromas!)
– Peel back lemon rinds using a knife or peeler. You can use the whole lemon slices if you like
– Add sliced apples, lemon rinds and spices to a pot filled halfway with water
– Bring water to a boil, then reduce heat to a simmer
– Let simmer as long as desired for the aroma to fill your room!
The potpourri lasts about 1 day. You can make it in the morning and let simmer on low all day. Once the apples start to mush up, you know it's done.
Enjoy!