The Nursery Reveal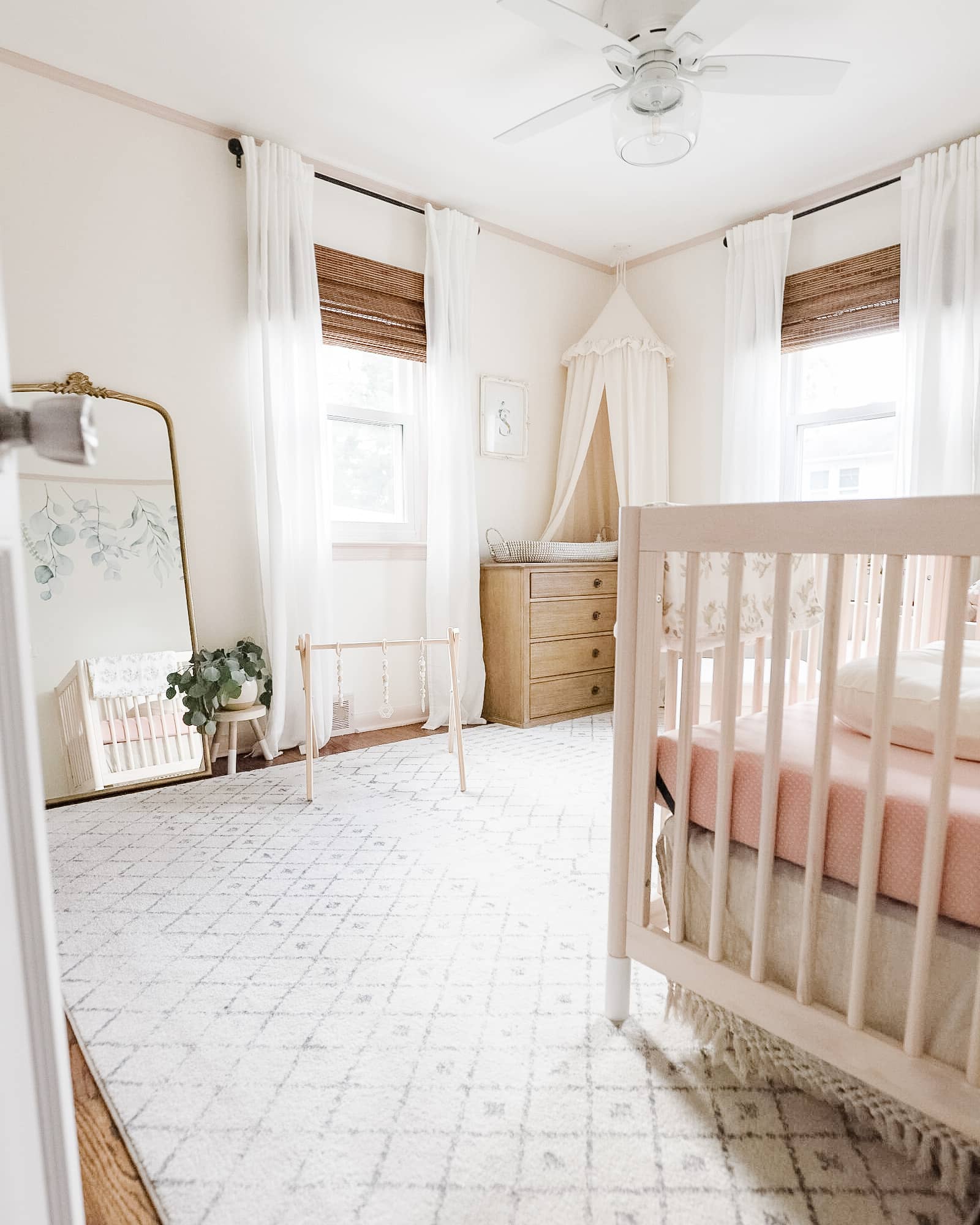 Today is the day I've been waiting for.. our baby girl's nursery is finally complete!
It's been nearly finished for some time now but I had been waiting on a few pieces, including finishing a homemade nursery mobile and a beautiful hamper that's been on backorder.  Well, I got news that the hamper delivery is further pushed back, BUT I couldn't wait any longer to finish/share the nursery since baby girl is expected any day now.. certainly before the hamper will get here 🙂
The design for the nursery was inspired by a few others – with an enchanted forest / garden theme. See this blog post for the inspiration and design board I drew up a few months back. I wanted consistent colors and materials to flow throughout room and really tie everything together. So I stuck to creamy whites, muted pinks, sage green combined with light woods, woven textures and brass/ vintage elements.
Slowly but surely over the last few months the pieces came together. And without further ado, here are the final shots of baby girl's nursery: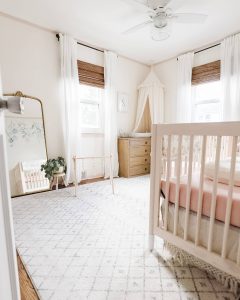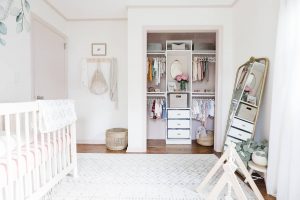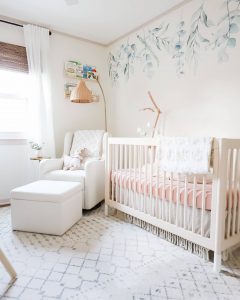 Where do I start? How about our crib / accent wall.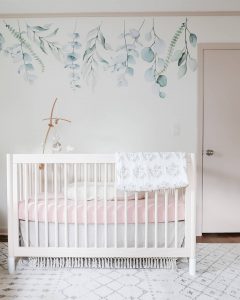 This room was already painted Swiss Coffee by Behr, and instead of repainting we decided to paint only the room's trim, doors and interior of the closet a soft pink color – Malted Milk by Sherwin Williams. It was the perfect muted pinky hue that wasn't too bright. This saved us a lot of time (and $ for paint!) to only focus on the trim.
Before we got started in here, we also installed a ceiling fan. In reading up on nurseries, having proper circulation / air flow in the room is very important for the baby so we made sure to have that taken care of. I loved this one I found from Hunter in 44 inches (for our small room) – it's modern, but not TOO modern like some on the market these days.
We ultimately decided that the crib had to go on this particular wall, because the other walls of the room either had a window or the closet. This wall was a blank canvas too, to be able to do something fantastic here. And therefore I sought out and found this beautiful hanging greenery wall paper that would cascade down over the crib. I asked the shop owner to create it in sticker form for me, not wall paper and she agreed. Not going to lie, we had some 'sticking' issues with a few of the pieces and had to apply additional adhesive to make it work. But it worked (yay!) and this wall is certainly the highlight of the room bringing the garden / forest feel to the whole thing.
The crib was a gift from Zack's mother – a beautiful light wood tone minimal crib from Babyletto.
For bedding, we found this fitted crib sheet in soft pink with white dots, and a gorgeous Serena & Lily macrame crib skirt. (You see a SnuggleMe Organic in the crib here, but that won't be staying!)
The perfect touch to the crib was this baby mobile I made myself with little bunnies to go with the forest theme. See my Instagram story highlight for how I did it!  Nothing is more special than something homemade, and after having no luck in finding a mobile I liked I knew I could create something of my own that would add to the feel of the nursery. She is going to love it 🙂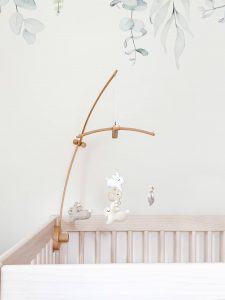 Next up we have her little reading corner. I found what I believe to be the perfect nursery glider for in here. It's the most beautiful creamy white in a performance fabric (meant to resist spills/messes!), super comfortable and the ottoman includes additional storage. A win all around! I waited months for this to come back in stock, and it was SO WORTH IT !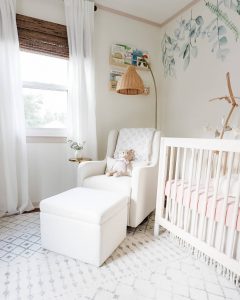 Overhanging the glider is this woven lamp which gives this corner some texture. And next to the glider a mini brass pedestal table to be able to put down a glass, bottle or what-have-you. The size is perfect for this little room! I can picture myself nursing baby girl in this chair, and keeping a glass of water next to me on here. My mom crocheted the blanket that you see on the chair – another beautiful homemade piece for baby girl. And this fawn doll is from Cuddle and Kind who so graciously gifted it to us. One doll purchased donates 10 meals to children in need around the world.
I also found these light wood bookshelves on Etsy to fill with some of the classic children's books that I received from friends and family at my baby shower. (Also to note, not all of her books fit in here! So I'll be including space for a bookshelf in her playroom when we get that underway).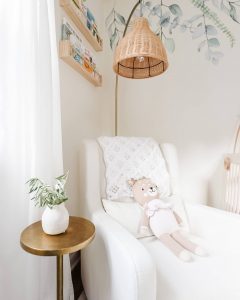 In the corner opposite, we setup her changing station, which is actually this small dresser with the legs removed (to get it to the perfect height for changing!). I debated painting this dresser a sage green color to tie into the greenery on the opposite wall. Time did not allow for it but it's something I'm considering for the future!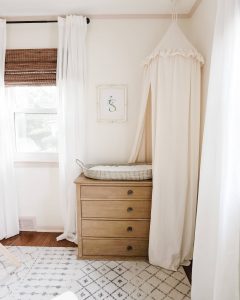 This changing basket was a gift at my shower that I love the natural texture of, again tying in more woven elements in the room. And to help bring some height and a focal point to this corner that you see as soon as you enter the room, we hung this canopy draped over the table. It also helps 'hide' the basket of changing table necessities ! Wipes, diaper cream organized in this diaper caddy basket. The drawers of the dresser are filled with more supplies, diapers, swaddle cloths and onesies.
And next to the canopy I hung this white antiqued frame with the letter S in greenery. It is a nod to baby girl's name ;-), and I will have it reprinted with her full name and date of birth and reframe it after she arrives. Love that this little piece brings something personal to the room! And also some of the greenery to this side of the room to match the accent wall.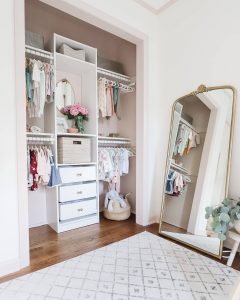 Probably my favorite part of the nursery is the DIY custom closet I designed! And with the help of Zack's brother, Tory, it all came to life. I'll be writing a separate blog post soon to share details on how it was done, but essentially we used an IKEA PAX closet insert and added shelves and rods to either side. Now it is for sure the nicest and most organized closet in our house, ha! My favorite touches are the brass bows as drawer pulls (how sweet!) and a vintage brass mirror we hung in the center I got at a thrift shop (but here's one that looks similar!). The perfect little touches to bring this closet together with the rest of the room. Baby ivory hangers are from Amazon.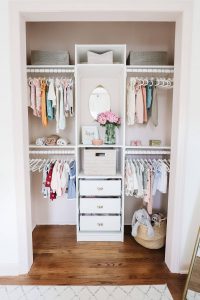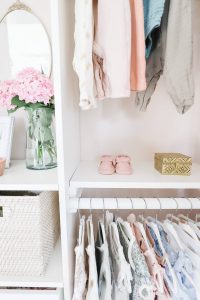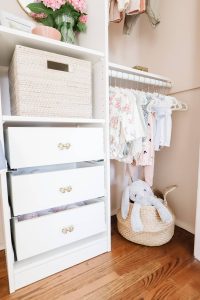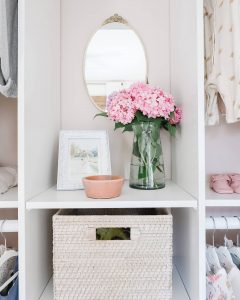 Next to the closet stands a full-length antiqued brass mirror as well as the cutest little white-dipped stool :-). Totally taking selfies with baby girl over here !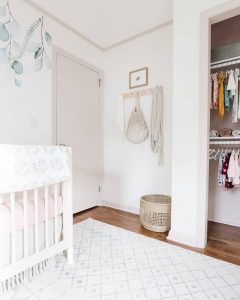 And finally we have this little space at the entrance of our nursery, which we hung a light wood peg rail to hang baby essentials. Here we hung her Solly baby wrap, and a farmer's market tote filled with burp cloths we can easily grab. A lot of what I tried to do around this nursery was both aesthetic and most importantly FUNCTIONAL !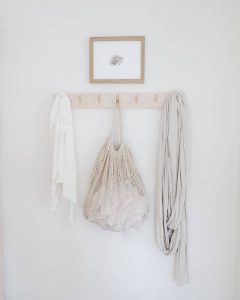 Above the pegs I hung this little baby fawn art that I found to be super cute.
Other mentions:
The wooden baby play gym in the center of the room is another gift from my shower – perfect touch for the playfulness of the room!
The rug is a RugsUSA favorite. Curtains are IKEA Annalouisa and rods are rounded black.
I can barely handle the cuteness that is this room ! It turned out better than I had DREAMED! And I think we did pretty well to maximize the space of this small bedroom.
Now, the waiting game for her arrival is on 🙂
I cannot wait to bring her home to this nursery I created for her!
xo, Erin