Tips For Choosing Art and Frames for a Gallery Wall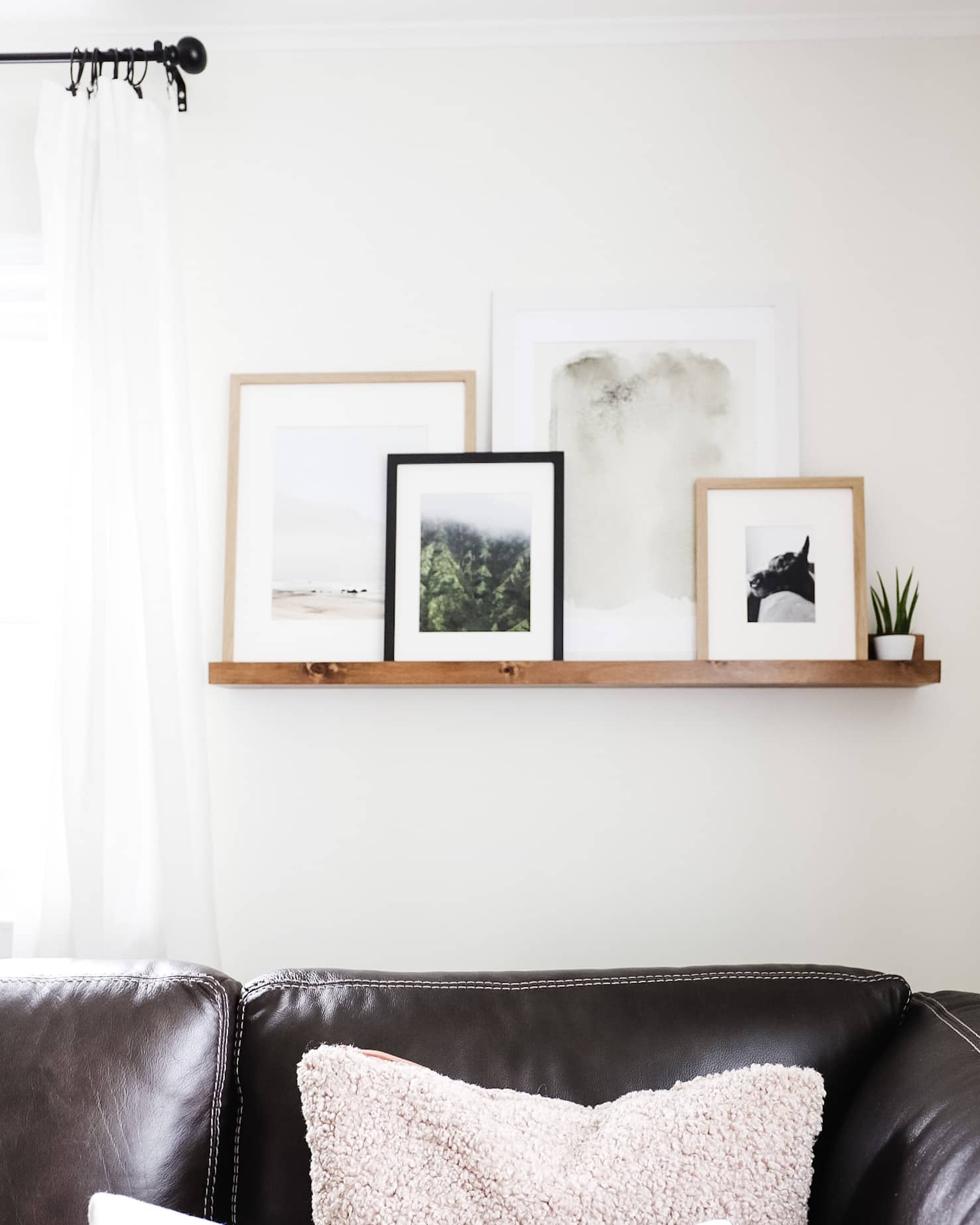 I created this little gallery ledge in my living room a few months back and I had so much fun selecting the prints. I must have played around with the combination a hundred times though! It's definitely an 'art' to be able to chose art that compliments each other. Here are my tips coming out of the experience for curating your own galley wall or ledge:
Choose art that reflects your style and interests. Don't pick it just because you saw a styled photo with it! Try to make it personal if you can, because that will make it even more special. For my gallery ledge, I incorporated a B&W photo of Sonny and a photo of a green landscape from me and Zack's trip to Hawaii – both personal, special moments for me.
Always think about balance. You don't want to have one dark photo and 4-5 light photos, you want to try to have a balance of colors and tones. And when deciding on placement, balance the heights. As you can see I alternated heights on mine. Try to avoid putting all of the tall ones on one side and the small ones on the other, you want to have a good mix.
Decide if you want symmetry or asymmetry. I've gone for asymmetry with mine and did varying styles and heights for the frames. As well as mixing abstract and photographs. For symmetry you likely want to get the same style frames and type of art (I.e. all black and white photographs). I feel that asymmetry brings more interest but go with your gut and personal style when deciding.
Try to stick to a color scheme or colors that complement. For mine, I went with blacks/blues/greens/whites. It all flowed well together. Not saying that you can't make pops of color work! But it's a lot easier to accomplish an elevated look if you have a color story.
Other print suggestions:
Instead of buying them already printed, sometimes it's less expensive to buy a digital file from Etsy or another print retailer and print at a local Fedex Kinkos (or Staples, Walgreens, etc.).
I like to print them in a Matte finish. Avoids the shiny effect.
My prints + corresponding frames:
This is my gallery ledge from Pottery Barn in the color rustic wood.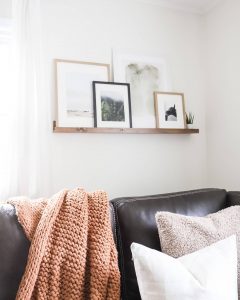 Some of my favorite shops for prints:
Leave a comment below with your favorite place to shop for prints !