What I Packed in my Hospital Bag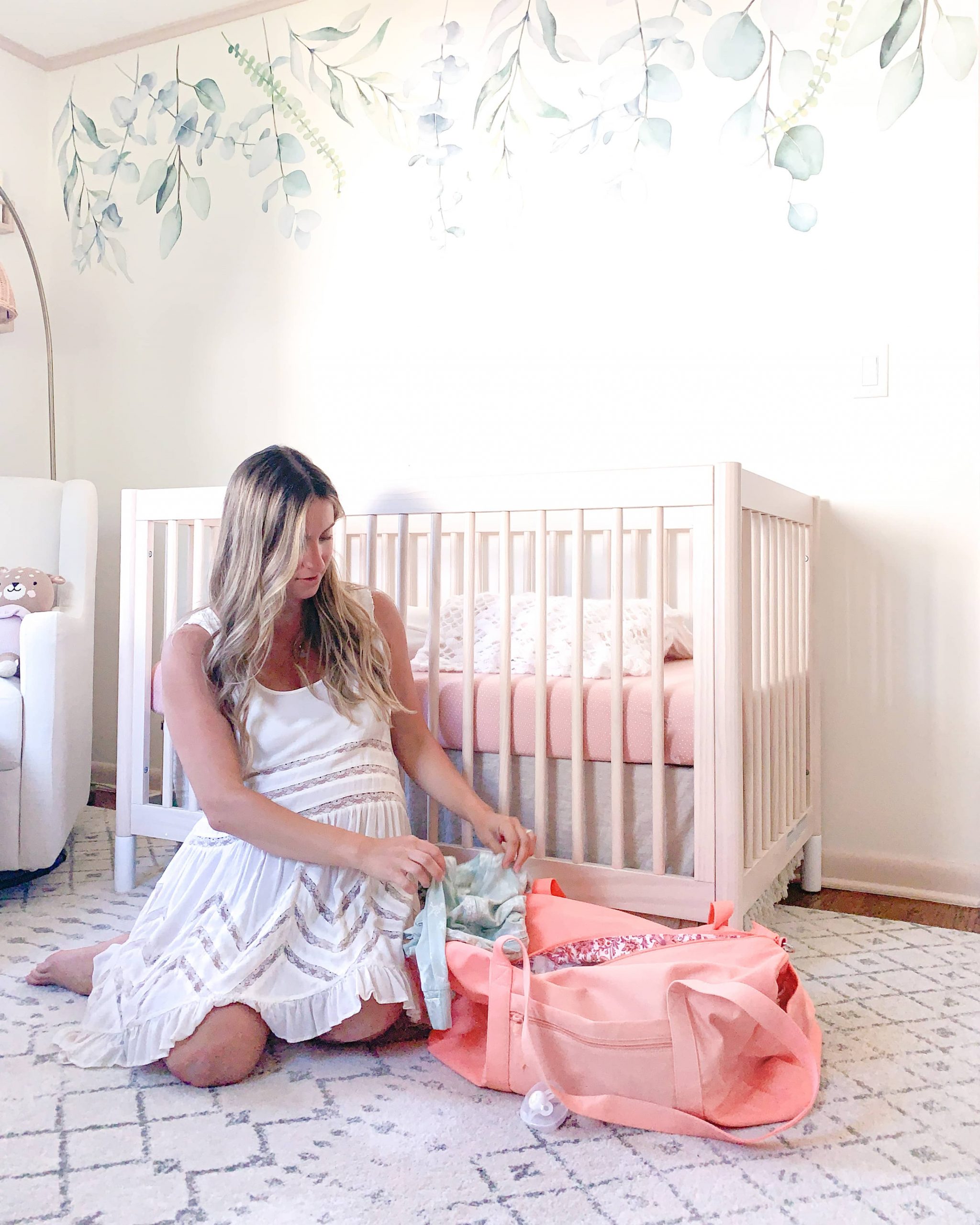 *UPDATED AFTER OUR HOSPITAL STAY! UPDATES IN BOLD*
We are a few weeks out from my due date of July 15th, and our bags are all packed for the hospital. It is insane to me that we are so close to meeting our baby girl! My emotions have been all over the place lately lol. And the third trimester has been no joke in terms of feeling uncomfortable – running to the bathroom constantly and some trouble sleeping! To say the least we are ready for her to get here <3
I've asked so many moms about what to pack in a hospital bag. And the answers varied from person to person. Most people say that the hospital provides ALL the essentials and mostly the items you bring are for your own comfort. I took all of the recommendations, consolidated into a list, and then edited things down based on my own personal preference! Here is what I ended up packing. I will plan to come back to edit this post after baby so that you know what I actually used vs. what I didn't!
I N  M Y  B A G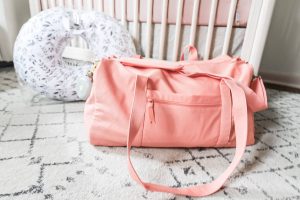 Clothes & Shoes:
Nursing Hospital Gown – for labor & delivery, I wanted to bring something I knew I would be comfortable in versus what the hospital provides. *I wound up not using this and just using the hospital gown provided. Totally not necessary!
Button-down pajama set – so many of you said dark color is best, and button down for easy access 🙂 *Wore this on day 2 of the hospital stay. Definitely nice to have the button down and dark colors are better for obvious reasons 🙂
Maternity Robe – matching with one of baby girl's swaddles! *Wore this for our first family photos with Saylor
Going home outfit – it will be a hot July day most likely, and wanted something dark and loose. I went with this black flowy dress. Not concerned about looking cute, just want to be comfortable ! *Glad I went with something loose, dark and comfortable. Function over style for the ride home is key lol.
Slippers – mine from home have been looking super worn so got this new cozy pair from Amazon! *The hospital gave me non-slip socks, but it was nice to have my own pair of slippers instead
Shower Sandals – just my basic pair of Havianas to protect my feet in the shower *Used! For my first shower after delivery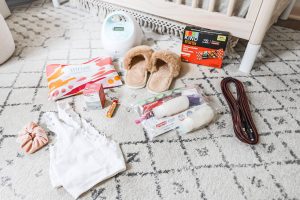 Postpartum Items:
Nursing Bras *Used – nursed every 2-3 hours
Nipple butter – I plan to try breast feeding right away, and I heard this is helpful *Did not use
Breast Pump + accessories – I have the Spectra S1. I heard the hospital nurses will show you how to pump and I definitely need to learn! *Did not use, hospital asked that I use the Madela hospital grade pump. I wish I asked them to show me how to use this one, but I was able to figure it out on my own at home since it's very similar to the hospital one!
All other postpartum items we have been told will be provided by the hospital! The rest of my "care kit" I kept home – you can see the items in there in my Amazon shop. *Hospital WAS great about providing all of the postpartum care items. Did not need to bring pads, peribottle, etc.!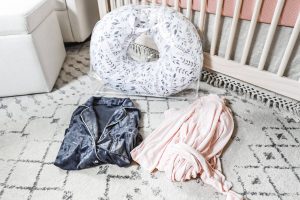 Toiletries:
Chapstick – SO many of you said this was necessary *Used
Makeup bag – not necessary I know, but wanted to have in case I want to clean myself up for photos with baby girl after *Used somewhat, for our first family photo
Hairbrush and hair ties *Used
Body wash, shampoo, conditioner *Used – must have, felt so good to have my first shower!
Dry shampoo *Did not use
Toothpaste & toothbrush *Used
Disposable contacts and eyeglasses *Used
*Wish I also brought a towel for the shower. The hospitals were small and thin.
Miscellaneous Items:
Drivers license and insurance card *Used
Extra-long phone charger cord *Used and so helpful! Power is far from your bed
Blanket & Pillow – the hospital will provide I believe, but wanted to bring mine to be sure I'd be comfortable *Used, so nice to have your own, hospitals were thin
Boppy Pillow – heard this was a must for breast feeding! *Used to help with those first feedings
Snacks – KIND bars, pretzels and my favorite candy 😛 *Used and great to have! Sometimes the hospital food took forever to get there and you get really hungry.
Portable sound machine – I got this from my shower for baby girl, but could come in handy to drown out hospital noises at night for better sleep *Did not use..
Extra empty bags – to take home hospital supplies! So many of you said they give you a lot of postnatal care items and diapers and I'm planning to take as much as possible. *Used to take home the care items the hospital gave me.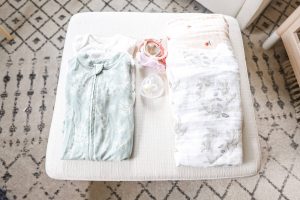 For Baby Girl:
Two going home outfits (in size newborn and 0-3 months just in case) – footed zip up pj's so she's comfy *Used one! But good to bring options to see what fits best
Two swaddle blankets *Used one
Onesies – extras just in case *Did not use
Sterilized pacifier *Did not use, but still good to bring. Hospital does provide if needed
Headbands / bows *Used for first photos
And that's about it! It all fit in my duffle bag nicely.
I'll plan to come back to edit this post after having baby to share what was actually the most useful items!
If you are a mama, let me know if you think I'm missing anything important !
S H O P  T H E  P O S T :