Family Christmas Recipe: Candy Cane Cookies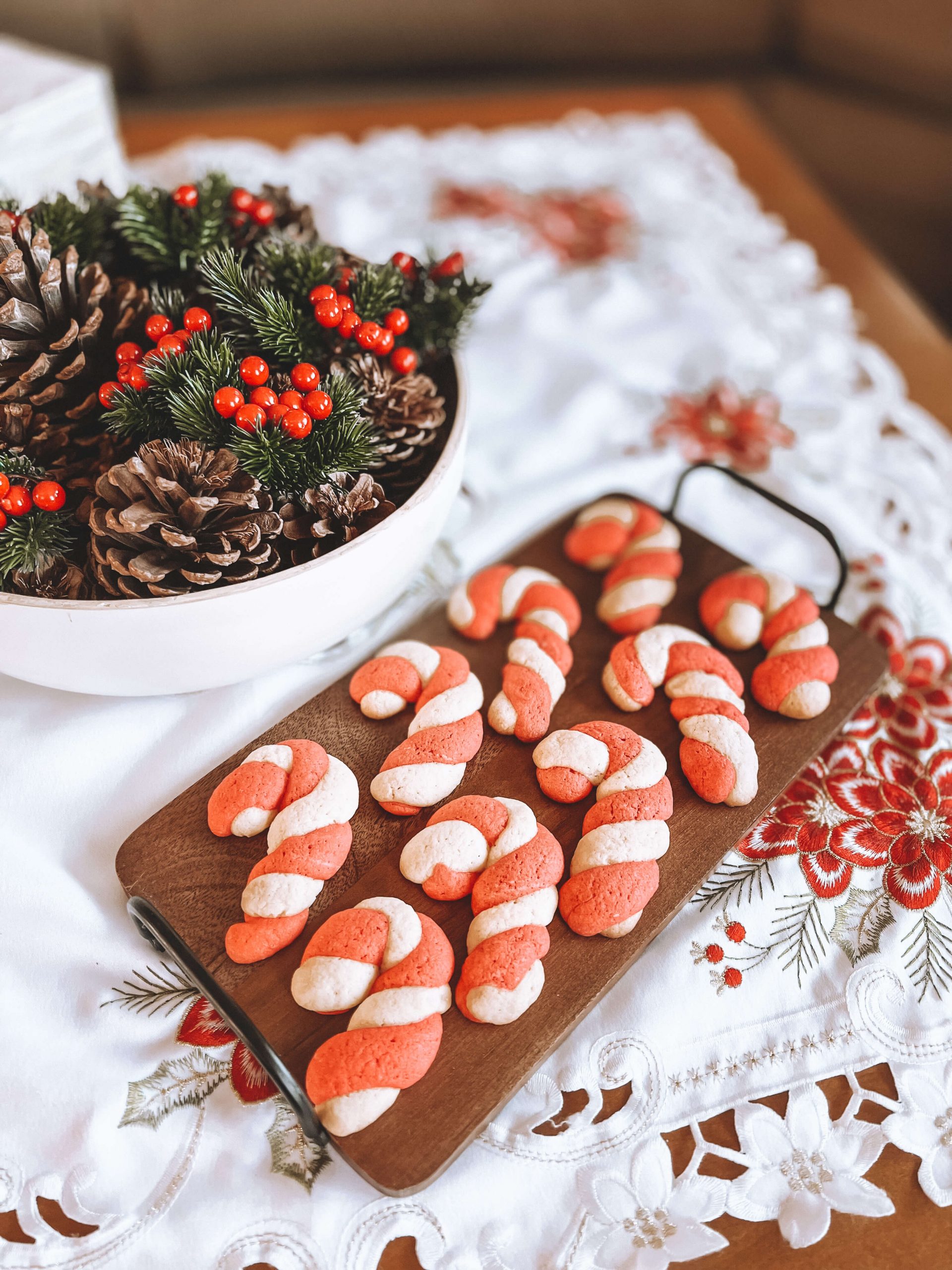 Being this is Say's first Christmas, how could I not bring her to *participate* in one of our family's favorite traditions?!
Growing up, my mom and my siblings/I would bake 10-15 different types of Christmas cookies every year and make gift baskets for family and friends. As we got older and eventually moved out, she still continued this tradition and the kids try to make it back home to help make a couple batches on a nice December Sunday 🙂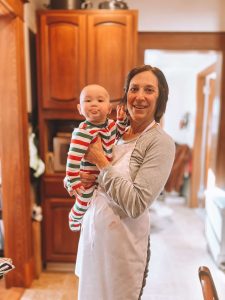 Every year she tries a couple new cookie recipes, but there's the tried and true family favorites that come back every single year. The recipe I'm sharing below is one of those favorites, and also so fun to make! They add a touch of interest to any cookie tray (candy-cane shaped among all the round cookies!) And they're also a favorite for kids – both to eat and to bake. If you have kids helping, the twisting them into candy canes part gets to be pretty funny! A lot of wonky but still delicious candy cane cookies will come out of that batch lol !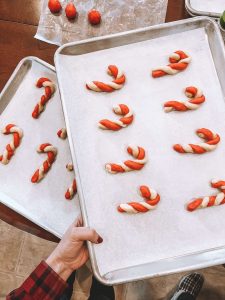 Candy Cane Cookies Recipe
Ingredients:
2/3 cup margarine
1 cup sugar
2 eggs
2 tsp. vanilla extract
1 tsp. almond extract
3 cups all-purpose flour
1 tsp. baking powder
1/2 teaspoon red food coloring
Directions:
In a large bowl, with electric mixer at medium speed, beat margarine and sugar until creamy
Add/beat in egg, vanilla and almond extracts
Combine flour and baking powder, stir into the margarine mixture to create the dough
Divide dough in half; tint half the dough with the red food coloring
Wrap each piece of dough individually (Saran Wrap) and let chill at least 2 hours
Divide each dough into 32 even pieces
Roll each piece into a 5-inch rope. Twist one red and one white rope together and bend one end to form a candy cane shape
Place on ungreased baking sheet. Bake at 375 degrees for 10-12 minutes or just until set and lightly golden
Remove from sheet, cool on wire racks. Store in airtight container
Enjoy !