The First 20 Weeks & My Pregnancy Essentials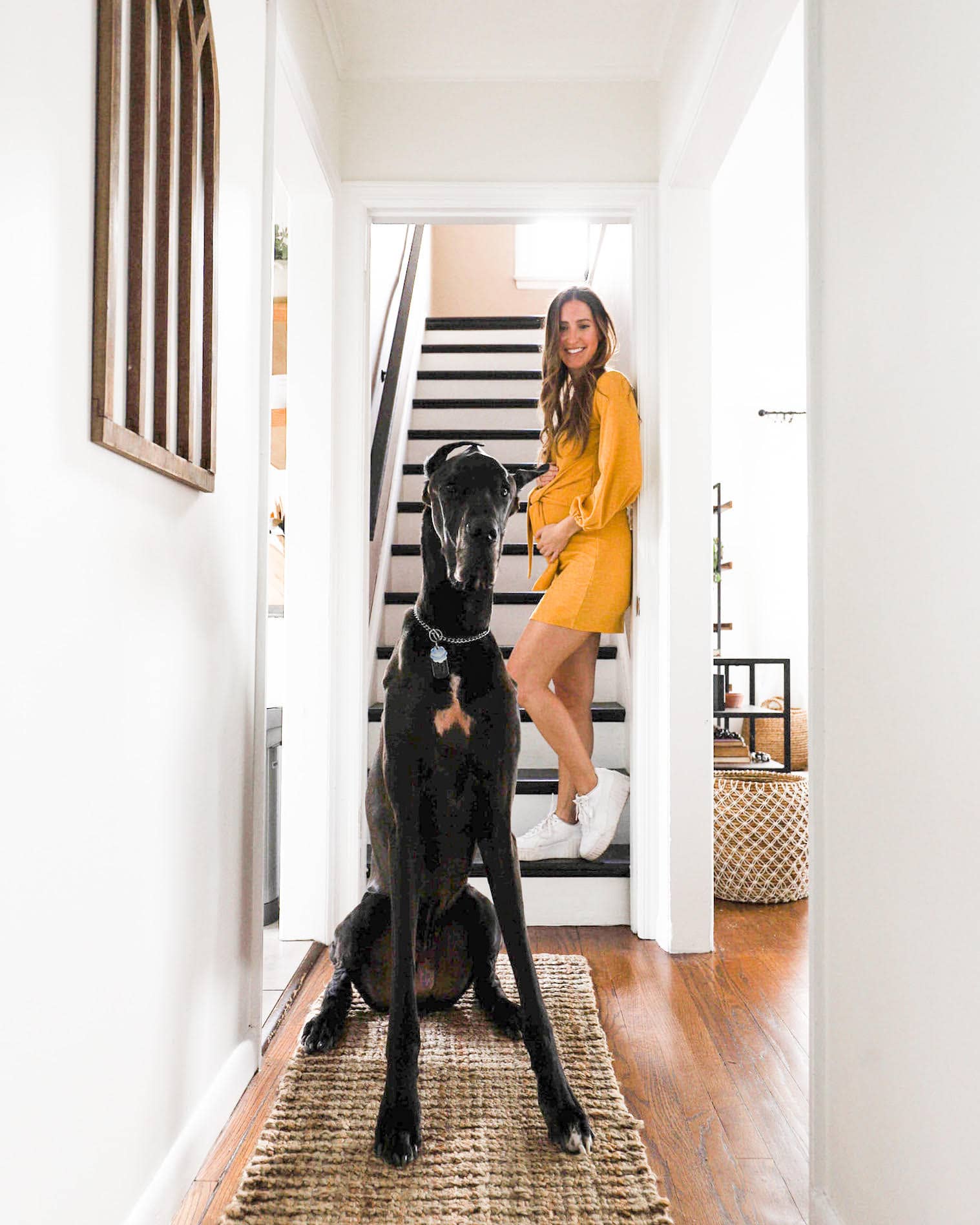 I am officially 20 weeks and halfway through this pregnancy! Yesterday morning I felt kicks for the first time which was amazing. This is my first pregnancy so everything is so new to me.
I spoke on Instagram about how it was a long journey to get here, so I am beyond grateful for this opportunity to carry a beautiful little life inside me, and am trying to soak up every moment. Sometimes I feel like a student to my own body. From the moment you are pregnant your body knows exactly what to do and goes into overdrive to prepare for the baby by developing hormones and growing in all the right places (belly, hips and boobs lol). But my mind is just observing it all and a little clueless as to what to expect.. it's been quite the rollercoaster!
For getting information, I've relied heavily on apps (What to Expect, The Bump, Ovia and Babylist are my favorites), YouTube videos, Google searches ("Can you eat _insert any food ever_ while pregnant?" Ha!), and asking friends/ all of you about your own experiences! Hearing from you about symptoms and solutions and being able to chat with you has been so comforting.
Everyone is different but for me, my first trimester symptoms started at about 8 weeks pregnant and began to subside around 16 weeks. Some of my main symptoms included nausea, dry-heaving, vomiting, aversions to certain foods and smells, headaches, extreme exhaustion and honestly overall depression. Sounds like a lot right?! I had a hard time doing simple tasks like washing dishes or feeding Sonny because certain smells would trigger my nausea and cause me to go into a spin. I was moody all the time. I was on Endometrin, a progesterone supplement, up until 12 weeks too, which could have worsened these symptoms, but I will say that I was taking Endometrin since week 1 though. And I didn't start to feel these symptoms until about 8 weeks so I don't believe it was strictly the medication.
In speaking with so many people symptoms like these are pretty common in the first trimester. But the funny thing is as soon as I hit 16 weeks it was like a light switch flicked on and they all disappeared. I got my energy back, the nausea went away and I started to feel like myself again.  Apparently, before your placenta is fully developed to support your baby, your body and hormones are fully supporting the baby's growth and cause these severe side effects. I was so relieved it all subsided because I was starting to go a little crazy! And driving Zack crazy too in the process, haha.
Below, I rounded up my top 15 pregnancy must haves through the first 20 weeks as well as some extra tips that I found helpful during the first half of my pregnancy.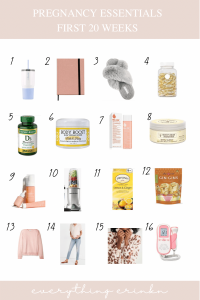 S H O P  T H E  P O S T :

01 Tumbler Water Bottle : Staying hydrated during pregnancy is super important. It's good for the baby, your stretching skin and not to mention that drinking ice cold water helped my nausea! I actually bought two of these bottles so that I could swap them out every other day when one was dirty. I carried this tumbler with me everywhere. I did not use the straw but it's nice that it comes with one.
02 Journal : When I was in the heat of feeling awful and depressed, I bought myself a journal to be able to keep track of how I was feeling week by week. I found that by writing down my feelings it helped me digest them and slowly feel better. I also tended to write motivational quotes or self affirmations or lists of things I wanted to accomplish during the pregnancy. It seems silly, but it helps!! I love that this journal was pink for baby girl and a high quality bound.
03 Slippers : 99% of the time I was in comfortable clothes. I thank god that I was working from home during the first trimester! These slippers made me feel super comfortable around the house.
04 Pre Natal Vitamin : After doing a bunch of research, I chose Ritual. A lot of pre natal vitamins are alike and contain the essentials for a developing baby (Folate, Choline, Omega 3 DHA, Iron and B12 to name a few) – but Ritual does not use any artificial colors or fillers, is non-GMO and vegan. They're also essenced in lemon which gives them a good flavor!
05 Vitamin D supplement : My IVF doctor recommended I start taking a daily Vitamin D supplement as soon as I started the process back in June. My OB also recommended when I started seeing him! It's great for immune system support which is so important during this pandemic time..
06 Raw Sugar Scrub : I used this scrub on my belly, butt and boobs (the three B's lol) twice a week to exfoliate and keep my skin super soft and malleable while it grows to prevent stretch marks! My belly started to grow almost immediately (since I have a smaller frame!) so I used this very early on.
07 Bio Oil : This stuff is magic for scars! And also a great preventative for stretch marks. I use this on my belly in the mornings after my shower.
08 Belly Butter : I use this belly butter in the evenings. Essentially I am doubling up between the oil and butter because I'm trying to be super careful about not getting stretch marks. So far so good with this little routine!
09 Skincare Routine : I use this all natural skincare routine to keep my skin balanced and soft. Happy to say my skin has been pretty clear throughout the pregnancy so far!
10 Nutribullet Blender : One of the things that helped me get back to feeling myself was starting a routine. That included making a delicious smoothie every morning. I was craving all unhealthy things in my first trimester, but making smoothies was a way to easily get a lot of good nutrients to the baby without having to eat healthy foods that I wasn't stomaching well!
11 Ginger Lemon tea : My nausea was worse in the evenings, so I had a ginger lemon tea every night to ease it. It is caffeine free, and I was careful not to have TOO much herbal tea. But my doctor said one cup a day was fine.
12 Ginger Bites : This isn't the exact brand I got (mine were from Wegmans), but I popped Ginger candy bites whenever nausea got really bad. They helped somewhat!
13 Comfy Sweats : Having loose fitting clothing and pajamas was key to staying comfortable. This pink sweatshirt was also my good luck charm going into every major IVF and OB appointment! It's super soft after many washes and inexpensive.
14 Maternity Jeans : After I started to feel better post-first trimester, my belly was already starting to bulge so I couldn't fit into my regular jeans. I knew I wanted to find a comfortable and stylish pair of maternity jeans. Sometimes they can be so icky! These were a pair that were very comfortable and I wouldn't be embarrassed wearing 🙂
15 Cozy Robe : Lived in this soft robe around the house since it was easy to throw on. Super warm for the winter months too!
16 Baby Fetal Doppler for Home : I have a different brand (that my mom gifted me!) but it has been so nice to have a doppler for listening to baby's heart beat at home! Up until 16 weeks, it was near impossible to find. But as she got bigger, we were able to find it very easily using the doppler. OB appointments are few and far between sometimes so it's nice to listen on your own when it's been a while.
One other thing I want to note for my pregnancy routine so far (after the symptomatic first trimester), every morning I do a 30 minute workout – either yoga, hike/walk on the treadmill or a low-impact cardio or body workout. I typically YouTube and try different videos. It has helped my mood immensely and it is so good for baby to keep active (with your doctor's approval).
I have a feeling my next 20 weeks of pregnancy will involve other essentials ! Such as a pregnancy pillow (that I currently have on order) and a belly band for the back pain that's just beginning now lol. I will provide an update to my pregnancy essentials as I get further along!
Overall, I'd say the first part of my pregnancy was really rough. But the fact that I'm growing a beautiful human life inside of me (who will one day be my best friend!) makes it all so worth it. I can say I am thoroughly enjoying being pregnant now. The little flutters I felt yesterday were just the start of the beautiful months ahead where I have this baby all to myself inside me. I can't wait for her to come, but at the same time I don't want the pregnancy to end! I just have to make sure I take in every single second. <3