Baby in Bloom: Shower for Baby Girl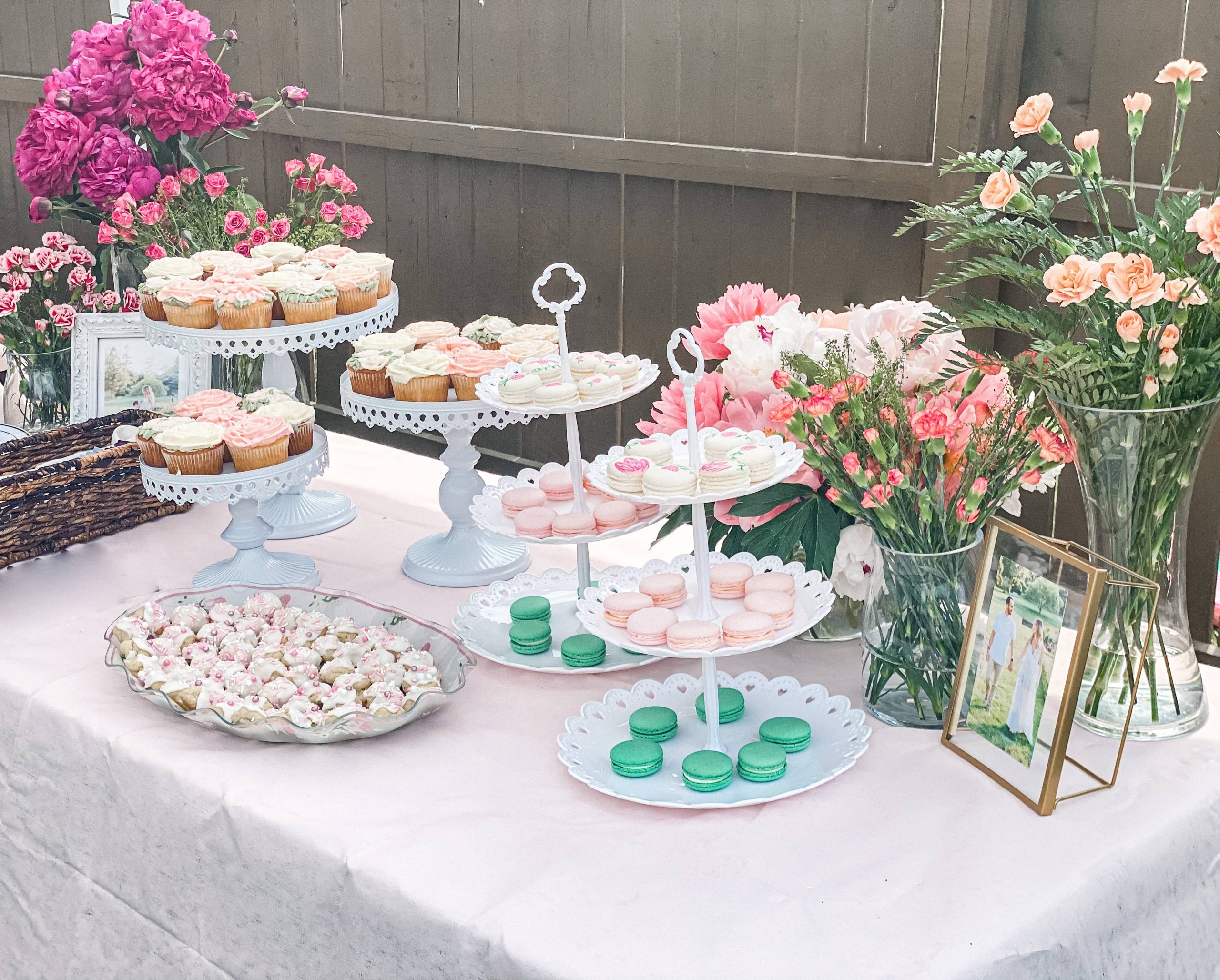 Yesterday was a very special day for me and my family. It was the day we got to celebrate our baby girl on the way and see so many family and friends that we haven't really seen in over a year !
My mom and I started planning the shower back in February when there was a lot of uncertainty around booking a venue with the pandemic going on. So we made the decision to keep it small, and host it in my backyard which has plenty of space.
After pinning allll my favorite things on Pinterest for baby showers, I landed on the theme "Baby in Bloom" which felt perfect with it taking place in the Spring / May and flowers just always being a favorite of mine!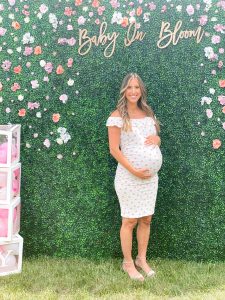 The planning was a big undertaking since it was hosted at my house. But thanks to my mom, Zack's mom and sister everything fell into place easily. And weeks leading up to it, Zack was the biggest help getting the yard in order from the grass, hanging string lights, planting flowers, etc. Couldn't have done it without him.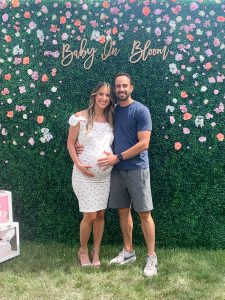 The day of the shower was pretty hectic! Funnily enough that morning, I had Zack helping me hang a fresh shower curtain in the bathroom everyone would be using and he accidentally almost knocked me out with the curtain rod lol ! Thankfully it was only a small bump on my head.
Check out my stories on Instagram for more shots and videos, and below are photos of all the details.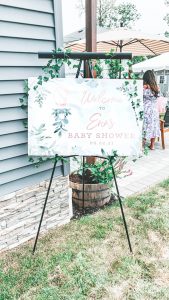 Invitations, Welcome sign, games were all custom made in light pink with greenery, and all produced by SaveTheDatePrintable on Etsy.
G E T  T H E  L O O K :

Dessert Table: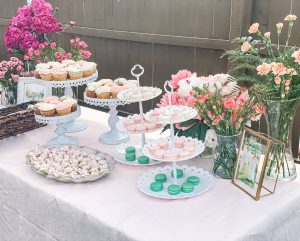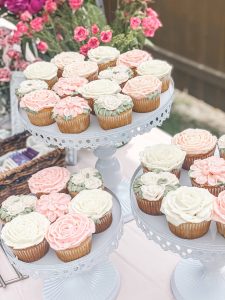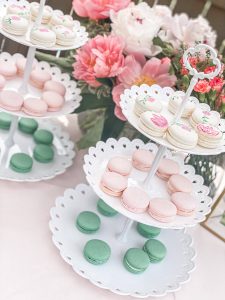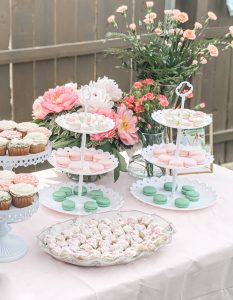 Floral arrangements were a combination of brought by a local florist, and I DIYed some after picking up fresh flowers from Trader Joe's the day prior.
Floral cupcakes in pink, cream and pale green were provided by @artisanco.cakes
The beautiful floral macarons were made by my dear friend Christina! @macaronsbychristina
Pink lemon drop cookies were made by my mom, one of mine and my grandpa's favorite cookies 🙂
White tiered trays were from Amazon here & here.
Table cloth was a light pink with scalloped edge (to match the invites!) from Target.
Table Setting: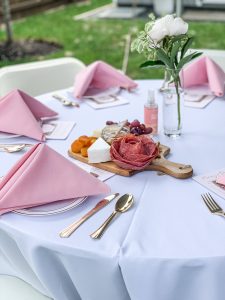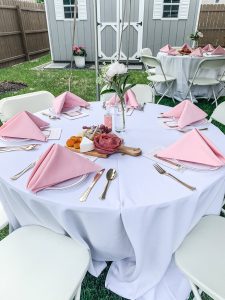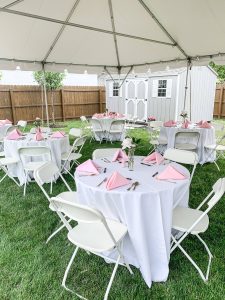 White tablecloth and light pink napkins were rented through (along with the large tent and tables/chairs!) Paul David Partywares.
High end plastic plates and cutlery were purchased at Posh Party Supplies.
Peony flower in small vase provided by a local florist.
Charcuterie boards were made by my sis in law, Chelsea! And the boards themselves were purchased at World Market.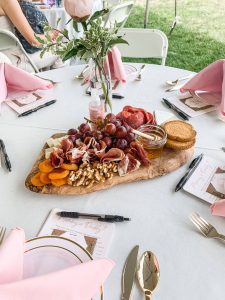 Flower wall was provided by @eventfullyyoursnj – it was a HIT and the focal point of the whole event! I was so happy with how all the photos turned out in front of it: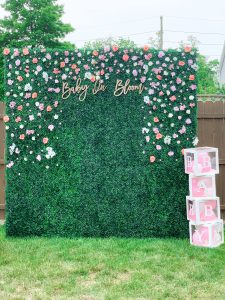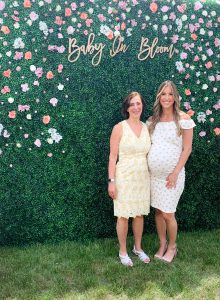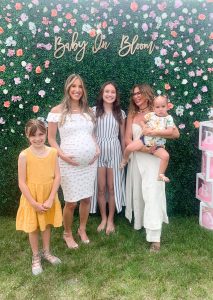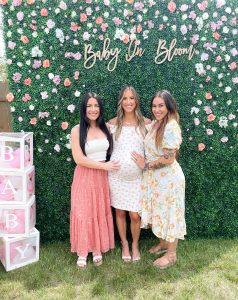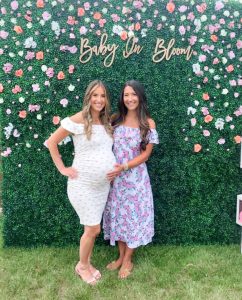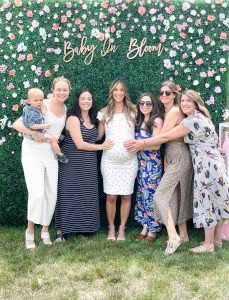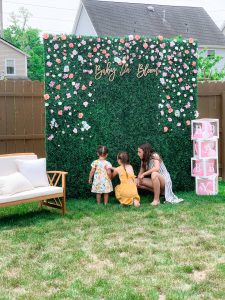 Paper flowers that were hung along the fence were purchased at Efavormart.
We also hung a baby clothes line with some greenery!: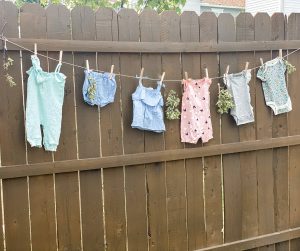 I did stop to say a few words to the group of guests at the shower — to thank them for coming and the generous gifts — and a thank you to my Moms for making the day possible and beautiful. I got so emotional standing up there saying those things! It was a special moment knowing everyone there cares so much about this baby girl. I feel so blessed to have my family and friends.