Organizing Saylor's Nursery & A Home Organization Blog Hop!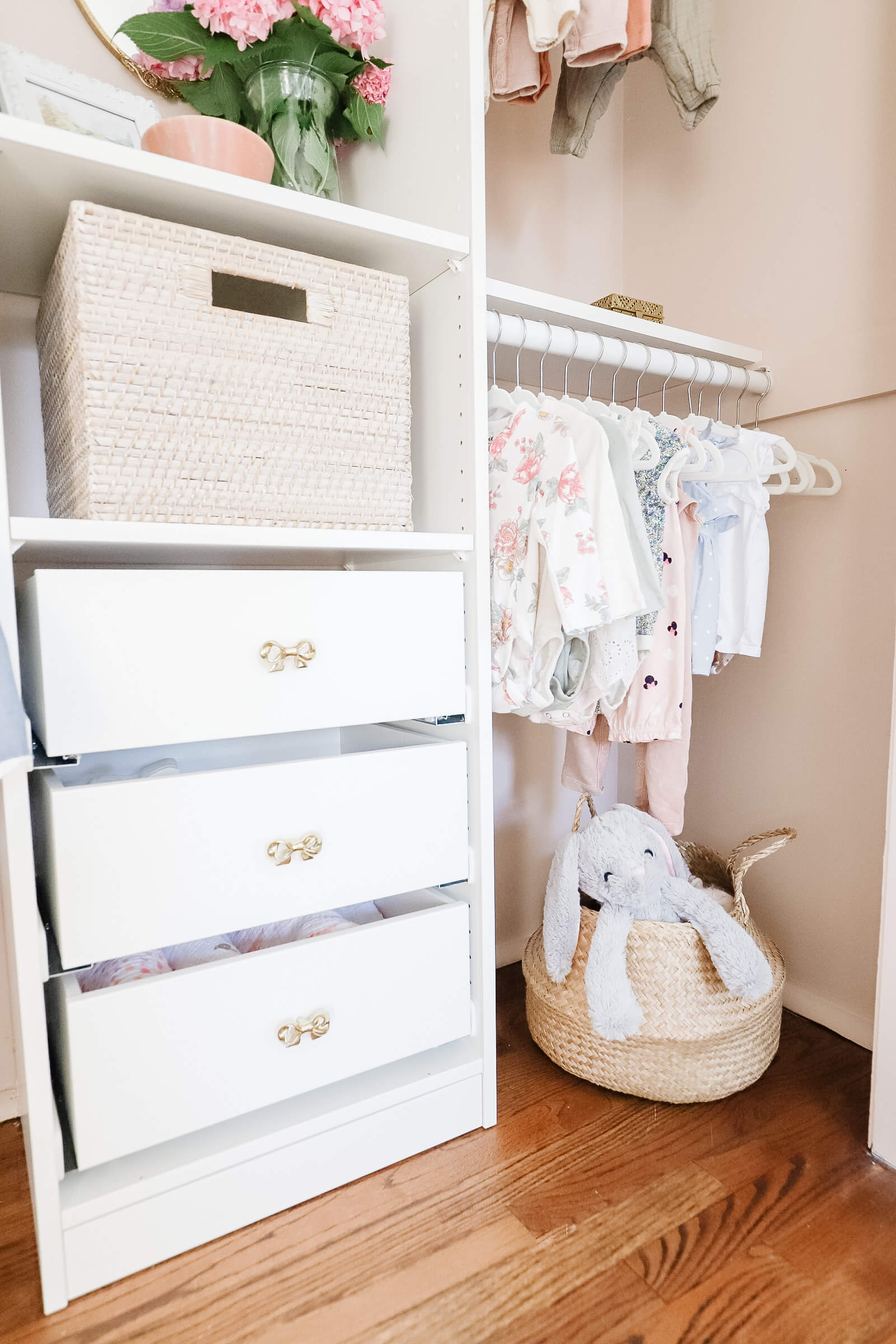 January is definitely the time of year that I typically go on an organizing frenzy. If you were here last year, that meant tackling my kitchen, the spice rack, under the sink and my dressers/closets.
This year, I'm teaming up with a group of very talented blogger friends and we each selected a home organization project to tackle. I am linking their posts below so you can dive into some more organization inspiration!
I decided to take on the nursery. I put the finishing touches on Saylor's nursery the month before she was born. But, I didn't have much time before she came to get as organized as I would have liked in there. For instance, her clothes, onesies and pajamas in drawers were separated and folded — but after some use, especially during the baby frenzy, the drawers all became a mish mosh. You wash ALOT of baby clothes all the time, so the drawers are constantly in flux! Another example, we had one hamper for her nursery but whenever I brought it down to wash, a pile of more dirty clothes appeared in the corner lol! We really needed two hampers..
And so now that I have a little breather, and Saylor is 6 months old, I decided to do a little organization refresh in here.
Here is what I did and my tips for you if you're organizing a nursery!:
1. Buy inserts to keep clothing types contained
I got these inserts off of Amazon and I love the neutral look of them. They go great with the wood of our drawers. They come in a pack of many different shapes and sizes so you can use as you see fit!
I did the larger squares for her pajamas, the rectangle rows for her nicer onesies and pants, and the small squares for socks and bows.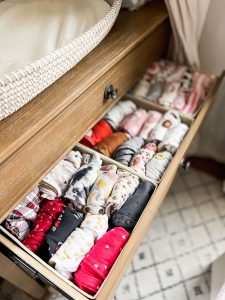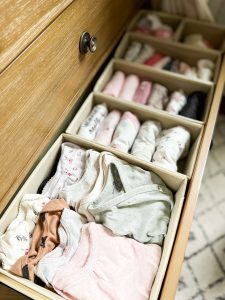 2. Multiple hampers are your best friend
We had one small hamper in this nook of the nursery when Saylor was born! I realized very quickly that I'm constantly washing her clothes and the hamper wound up never being in her room but rather by the washing machine! And then a pile would form in the corner with any new dirty clothes. So, we got a second large hamper to solve for that and just rotate them out as washes are done.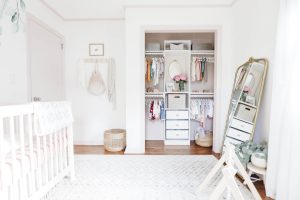 3. Use baskets to wrangle & hide miscellaneous items
Babies come with all sorts of miscellaneous things! Toys, pacifiers, stuffed animals. The best thing to wrangle and keep these items 'hidden' are baskets. I purchased these for her closet shelves and they work great. Linking a few I love below.
B A S K E T S  I  L O V E :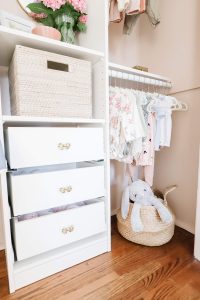 4. When planning the arrangement in the closet, think of size and season
The baby clothes gifts I received at my shower were a wide array of sizes! From Newborn up to 9-12months. Since I knew Saylor would be growing quickly in and out of them I didn't want to store away the larger sizes necessarily. Instead, I sorted her closet by size/season — so I knew exactly where to pull her clothes from based on her age and the weather outside. Thankfully we had designed this custom IKEA closet that made the sorting easy. But if you don't have, they sell baby clothes separators like this that make it easy to sort based on age!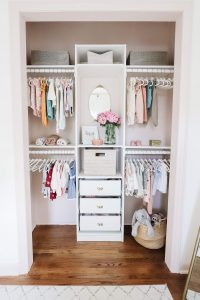 Check out some of the inspiring home organization projects that my friends tackled this month!:
Ursula took on her pantry organization: lanaandlino.com
Lulu took on her master closet: luluquadri.com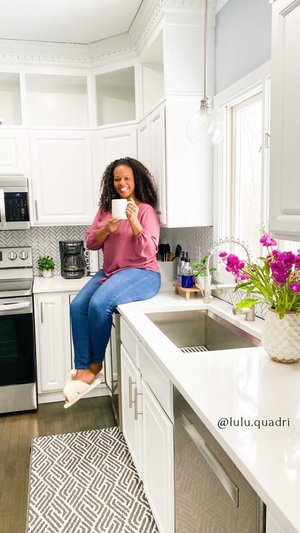 Sunny took on maximizing storage in small living spaces: positivelystrong.com
Rhegis took on storage solutions for her garage: themorrismansionblog.com